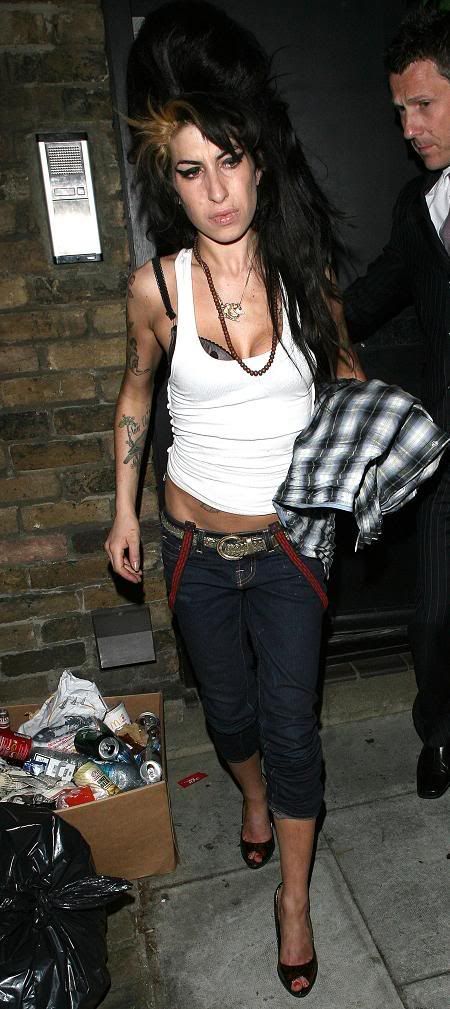 Every so often you read a story and you just want to shout, "How dumb do you think I am?" Amy Winehouse's PR team seems to think they can get away with telling us that the woman who's got to be the world's most famous drug addict was hospitalized last night for a mere accidental mix-up with her medications. I have no idea what kind of policies British hospitals tend to have about privacy, but the hospital Amy was admitted to is going along with the medication mix-up story. I just don't buy it.
Amy Winehouse has been discharged from the hospital 12 hours after she was rushed to an emergency room, PEOPLE has confirmed. "Amy is fine and she is on her way home," says her U.K. rep, Chris Goodman.

Winehouse, 24, was taken by ambulance from her home in north London to the University College Hospital on Monday night after suffering what was believed to be a seizure. Wrapped in a red blanket, she was taken to the vehicle in a wheelchair while her dad Mitch looked on.

The setback was part of her struggle to get clean, the rep insists… "She was taking a new [medication] as part of her anti-drug treatment program," says Goodman. "And it was an adverse reaction to that new drug. You have to try different things but unfortunately this was not the right one."

…Almost exactly a year ago, Winehouse was treated at the University College Hospital for "exhaustion." Her father later revealed she had overdosed and need her stomach pumped.
[From People]
If PR reps were honest, I'd consider the possibility that this might be true. But last year's exhaustion turned out to really be an overdose and severe problems are always played off as not that big a deal, it's hard to believe something so minor really went down. That said, Amy was released rather quickly, but I'm assuming it's into the hands of other doctors. One would hope.
Amy had her most chaotic weekend in recent memory just a few days ago, and was photographed with obvious crack pipe burns. She's been acting like a nut – even for her, the behavior has been totally wacky. I can't imagine how she's going to live another year. She passed most people's rock bottom a long time ago, and it's a miracle she's still alive.
Here's Amy on May 19th with a small spot of blood on her vest, as well as fresh cut marks on her arm, and sores on her hands. Sadly she looks a lot better like this than in pictures from the past two weeks. Images thanks to WENN.