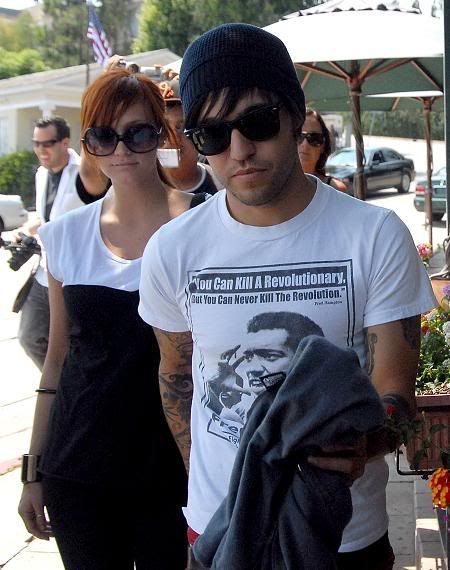 Pete Wentz is going to be one hell of a frightening father. I mean he's going to rival early Britney Spears in terms of parenting. And the kid's got Ashlee Simpson for a mother. Pete thinks it would be totally awesome and a heck of a lot of fun to bring his baby on tour with his band Fall Out Boy. Because what's better for a little, impressionable kid who can easily pick up both germs and bad language than spending its formative years touring with a quasi-rock band?
Their baby isn't due for several months, but Pete Wentz and Ashlee Simpson-Wentz are already planning to bring the little one on tour. "I think it would be a really awesome environment for kids," Pete, 29, tells In Touch. "Bringing a kid along would be cool."

And he probably won't get an argument from his wife — Ashlee, 23, was singing along backstage when Fall Out Boy performed at Victoria's Secret Pinkapalooza in LA on July 17. "Pete came over and sang to her belly after their set," an onlooker says. "They were so cute." Lead singer Patrick Stump gives his approval, too! "He'll be a fun dad," Patrick says. "I'm most excited about meeting the baby," Pete tells In Touch.
[From In Touch]
Wow, that really would be an awesome environment for kids. You know what else would be a great environment in which to raise kids? The circus. Running and jumping through those circles of fire? That's the best. Maybe Pete can convince Fall Out Boy to do a circus-based tour, and combine those two really awesome environments for kids. I hear the zoo is also a really great place to raise kids. Particularly the tiger cage.
What do you think the odds are that Pete and Ashlee's kid will end up without some significant loud (bad) music related hearing loss by the age of one? Frankly that's probably the best case scenario. My mind boggles at the shear amount of obstacles this child will have to overcome in order to survive to the age of seven.
Here's Ashlee Simpson and Pete Wentz at Cafe Med in Los Angeles on July 15th. Images thanks to WENN.