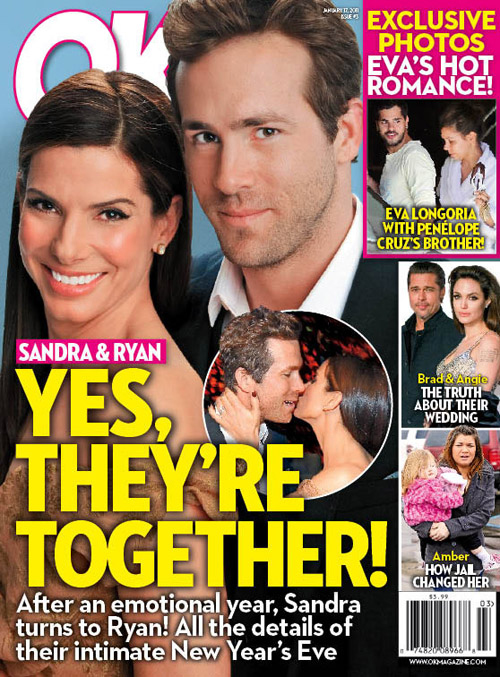 OK! Magazine runs with a Sandra Bullock and Ryan Reynolds cover this week, which is bolstered by the sheer number of photos together and quotes about each other they gave while promoting The Proposal. There are a couple of details in the story that seem new to me, or maybe I wasn't paying enough attention because I can't see these two as anything more than friends. OK! reports that "After a night of dancing, [Sandra and Ryan] shared a midnight kiss, a champagne toast and left the restaurant together at 2 a.m., according to witnesses." See, that sounds like more to me than just two recently single friends hanging out. If they're together, I doubt that Sandra homewrecked Ryan's relationship and it sounds like something that naturally developed out of Ryan's recent breakup. I think he's an ass, but I really like these two together! It's just like that cheesy romcom that Betty White saved. Here's more from OK!
A source confirms that Sandra, 46, invited the newly single Ryan, 34, and he quickly accepted. "Sandra planned all along to spend New Year's at the restaurant with friends," says the insider. "And she was thrilled that Ryan accepted her invitation to join in."

They turned to each other in their time of need – Sandra had been talking to heartbroken Ryan on the phone to console him after his recent split from Scarlett. And she obviously has the healing touch.

The co-stars were friends even before teaming up to film their hit movie The Proposal in 2008. "I met Sandra through my producing partner about 11 years ago, and we've been good friends ever since," says Ryan. "I never thought we'd do a film together, but it worked out." In fact, they quickly became such good friends that Ryan says, "We vacation together."

"I always say that chemistry is something impossible to manufacture," he says. "The fact that you're friends doesn't necessarily equate to great chemistry. So we learned early on that we had it and I was so grateful for that. It's like one of the few magical things about film that still exists. here's no way to manipulate that. It's either there magically or it's not…"

The eyewitness adds that Sandra and Ryan sat next to each other throughout the evening. "By the way Sandra was glued to Ryan's every word, they sure seem to be taken with each other.

"It was great to see Sandra laughing and having fun, and Ryan did a great job helping her relax and enjoy herself…"

The duo is set to reunite onscreen once again in Most Wanted, an action-comedy that follows a criminal (Sandra) being escorted to court by a U.S. Marshal (Ryan), when they're ambushed and forced to go on the run. It's telling that Sandra chose working with Ryan as her first project since winning a Best Actress Oscar – and losing her husband.
[From OK! Magazine, print edition, January 17, 2011]
Now that I'm finally reporting on this story, it makes me giddy. I want to see them become a couple and raise Louis together and live happily every after. Yes Ryan is a royal jerk, but I really think he changed when he got locked in a box to film that movie that no one saw. He saw a life where he wasn't the center of everything and where he could find love in the arms of a beautiful older unassuming costar, instead of the vapid younger starlet he married.
Who am I kidding? OK made up this story based on the known fact that Sandra and Ryan spent New Years together. Her rep of course said they were "nothing more than friends." Just like they were friends and coworkers at the beginning of The Proposal.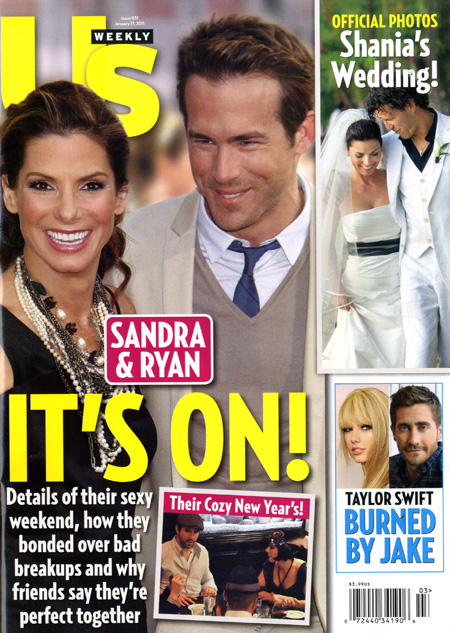 Update: US Magazine has these two on the cover this week as well, with the title "It's On!" The teaser article on their site quotes an insider who allegedly saw them on New Year's Eve. "They were very playful… smiling the whole time and occasionally touching…What a hot — and quick — rebound for both of them!"
Photo credit: WENN.com US Weekly cover via CoverAwards