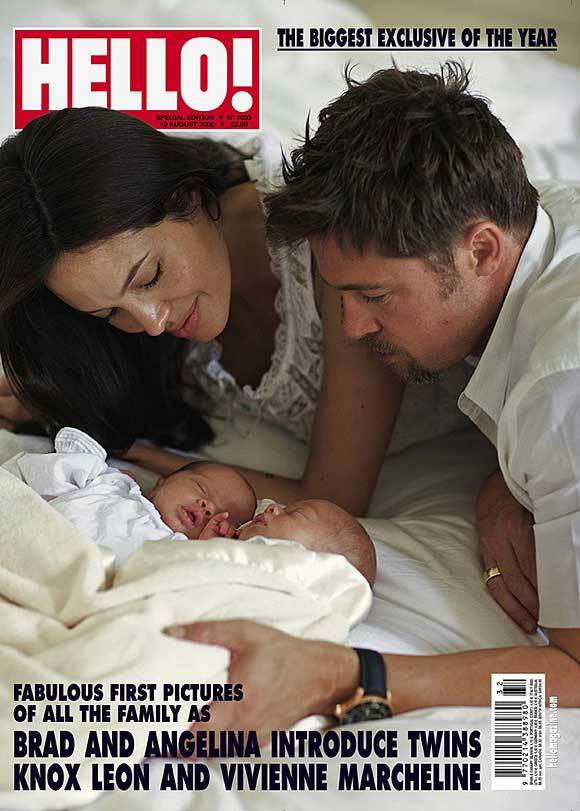 I finally got to read the issue of Hello! with Brad and Angelina's growing family and there were a few tidbits in there that I haven't seen yet. Apparently some of this interview was online a few days ago, but it's new to me.
The family is pretty open about their home life and how they're coping with six children now. Angelina says she tries to nap when four out of six kids are sleeping, which probably means the two girls and the twins. She also says she's breastfeeding and that she tries to nurse the twins at the same time so that it doesn't take as long.
On breast feeding the twins:
A: They are on the same schedule. They eat every three hours and I'm getting better at holding them both for breast-feeding at the same time, so that helps. Usually the other kids come in and hold them when they finish. They help with the baths and the changing.
B: We try to get them to eat simultaneously for the sake of management, but it gets a little crowded at the bar!
[Hello! via ONTD]
On preparing the kids for twins: They watched Dora the Explorer
A: There's a Dora The Explorer where Dora's mom has twins. A boy and a girl. They watched that a lot. They were excited.
[All quotes below on this page from Hello! Magazine, print edition, August 12, 2008]
On how it was to see the twins for the first time
A: I knew that like all twins they would be premature, so when I saw they were big and screaming with healthy lungs, I was at peace.
B: I felt an awe that words fail to describe.

On the twins' names
B: The name Vivienne came to us early, as if she named herself. She has always been Viv. And Marcheline is to honour Angie's late mother. Knox is a family name – my grandfather's – and Leon is a classic French name.
A: Every time I see or say Vivienne's full name I think of my mom. I look forward to the day she asks about her and I can tell her how special her grandmother was.
On how Angelina spent her two weeks at the hospital
A: Brad and the kids came a few nights each week and spent the night. So we never went too long without seeing each other.

I also watched The War by Ken Burns. I figured it would be the only chance I had to watch a 15-hour documentary!
On having a big family: it brought them together
Q: Did you always assume you would have children some day? Did you ever think you would have this many?!
A: Wanting a big family was one of the things that brought us together.
B: Always said if I were to do it, I'd do it big!
On all of their children being special
Q: You have said that you treat all the children exactly the same. Did you worry that you might feel differently once you had biological children?
A: Each of our children is unique and special to us. It makes no difference if they are biological or adopted.
On their charity work and building a clinic for Zahara to run
Q: Do you have any charity trips planned as part of your work with the Jolie-Pitt Foundation?
A: The next trip for our foundation will most likely be Asia to follow up on the situation in Burma and our work in Cambodia.
The boys have been asking to go so we will take them when Knox and Viv are a little older.
Q: What are your next projects?
A: We will be building a TB/AIDs clinic in Ethiopia. One we plan for Zahara to take over when she is older.
[From Hello! Magazine, print edition, August 12, 2008]
The causes Angelina mentions are worthy ones, and she definitely is committed to making a difference, but is it realistic to build a clinic for a three and a half year old child to take over when they're older? A lot of parents plan for even their future children to take over their businesses someday, so it's not unusual. That was the only part of the interview that I wondered about. I have a child around that age and I couldn't guess what he would want to do for a career when he grows up. I got a kick out of Angelina saying her kids watched Dora the Explorer. My son has the book where her mom has twins. "Twins! My mommy had two babies!"
You can tell that Brad and Angelina are thrilled with the twins and with their family and that they're busy but doing exactly what they want to do. Angelina said "Brad and I do manage to make special time for each child. With six kids it takes up the majority of the day. Of course we get tired, but we made a decision to have a big family and support each other to make it work." She also confirmed that she and Brad take turns working to ensure that one of them is their for the kids and that "We try to never work at the same time to keep the brood together."