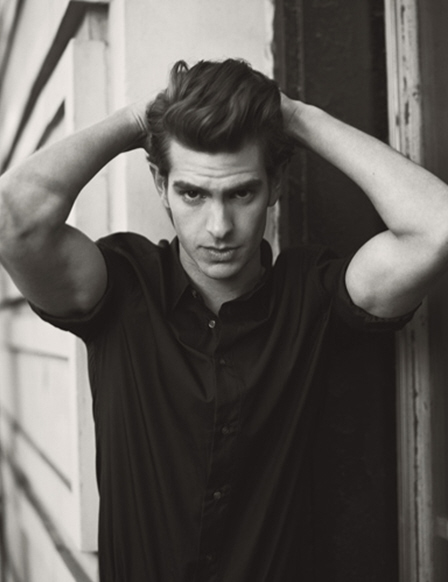 Andrew Garfield is the cover boy for the February issue of Details. He's promoting both Never Let Me Go and The Social Network, the film which will likely earn Andrew an Oscar nomination for Best Supporting Actor. The full Details piece is here – I actually really like Andrew Garfield. I liked him before I read the full piece, and I like him even more now. He's a neurotic little thing, and even though he's trying to seem kind of tough, you can tell he's just a sweet, sensitive soul. At least that's how I interpreted him.
One of his favorite movies is White Men Can't Jump. He tells a story about killing 30 minutes before his first major Hollywood audition by playing basketball, and then throwing up. He did not get the part.

On becoming a California boy by way of London: "I knew no one. I got to know the city [of LA] as a solitary individual," he says. "This old part here, with these ledges—that's where I used to skate." Although Garfield grew up outside London, he was born in Los Angeles in 1983, and on returning in 2006 he adopted the Cali surf-and-skate ethos with the passion of a native. Without physical activity, he has a tendency to withdraw and brood. "I think too much," he says. "Being in my body is much more satisfying than being in my head."

On playing Spiderman: "I really have no time to talk to you," he says with a nervous laugh. "I really should not be here right now. I should be worrying somewhere."

A Robert Redford story: Back in the early part of Garfield's career, once the pre-audition upchucking had subsided and he'd been cast in his first movie, 2007′s Lions for Lambs, his scenes consisted mostly of a rhetorical sparring match with the film's director, silver-screen eminence Robert Redford. Naturally Garfield couldn't resist the chance to lob the Sundance Kid a question. "I asked him, 'What was the happiest time in your career?' " Garfield recalls. "And he said, 'Before. Before it got easy. The struggle.'"

He's not interested in the Hollywood Game: Tell him he's in an enviable place and he grimaces. "I'm going to ignore everything you just said," he says with a wary dip of the chin. "Because it doesn't mean anything." He resists talking about his girlfriend, actress Shannon Woodward, and he's openly disdainful of the Young Hollywood party circuit. "Those events that look like so much fun in the photos you see—it's mostly people looking over their shoulders at everyone," he says. "They're miserable, those parties." Okay, but isn't he ever tempted to ring up, say, The Bazaar by José Andrés and make a midnight reservation for "Spider-Man, party of 27″? "I wouldn't be able to live with myself if I had done anything so crass and obscene as that," he says. "No f-cking way. I would literally be sick on myself throughout the dinner."

More on Spiderman: "I see it as a massive challenge in many ways," Garfield says. "To make it authentic. To make the character live and breathe in a new way. The audience already has a relationship with many different incarnations of the character. I do, as well. I'm probably going to be the guy in the movie theater shouting abuse at myself. But I have to let that go. No turning back. And I wouldn't want to."

Peter Parker/Spidey: All the physical training for Spider-Man (including a lot of yoga and pilates) has transformed his physique. "I want to feel stronger than I've ever felt, and I want to feel more flexible than I've ever felt," he says. "I want to feel powerful. You don't just want to be a pack of meat—it has to be an open body. It does something to your psyche, and it does something to the way you move." As far as the psyche is concerned, anxiety about whether he's man enough for the job is part of the Peter Parker gestalt. "Whenever I have a moment of doubt, I'm very easily able to equate it with the character struggle I'm stepping into," Garfield says. "And that's immediately reassuring—it feels like I'm in the right place for this."

On the high-emotion scene in The Social Network: "Are you kidding me?" Garfield says. "That day and night of shooting was one of my favorite experiences. I was actually proud of myself because I didn't care what I was doing. I was literally not judging myself. And it was so f-cking beautiful for a second. I've gone through my whole life caring deeply what people think of me," he continues. "That was probably one of the first times where I didn't care for a second. And it was liberating. I felt more like a man than I've ever felt."

On not watching himself or reading about himself: "If I watch myself," Garfield says, "then I suddenly have a bunch of things that I'm scared to do. It just upsets me. I've stopped reading reviews, as well. If one is negative, you hold on to that. It was killing me. It was holding me back from being creative and being free." Blogs and message boards? Even worse. He looked once. That was enough. "The first thing that was written was, 'What's up with this kid's eyebrows? He looks like a friggin' Neanderthal.' "
[From Details]
I never wrote anything about his eyebrows! So that wasn't me. But yeah, the kid is neurotic, and he wears his neurosis on his sleeve, which is always refreshing. I hate when self-doubt is somehow transformed into what appeals to be over-confidence. Something tells me that won't be Andrew's problem. Hopefully.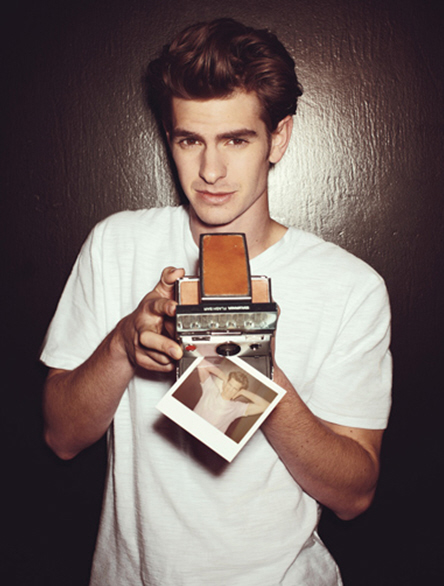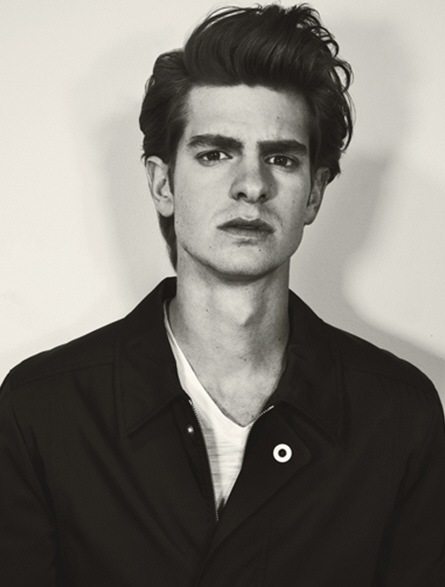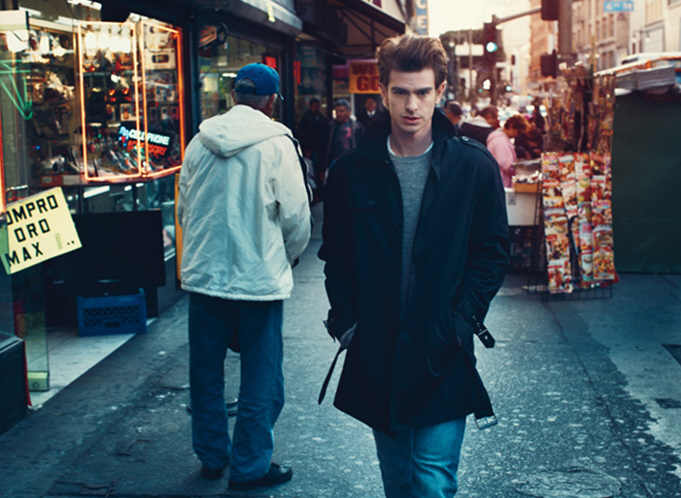 Photos courtesy of Details.