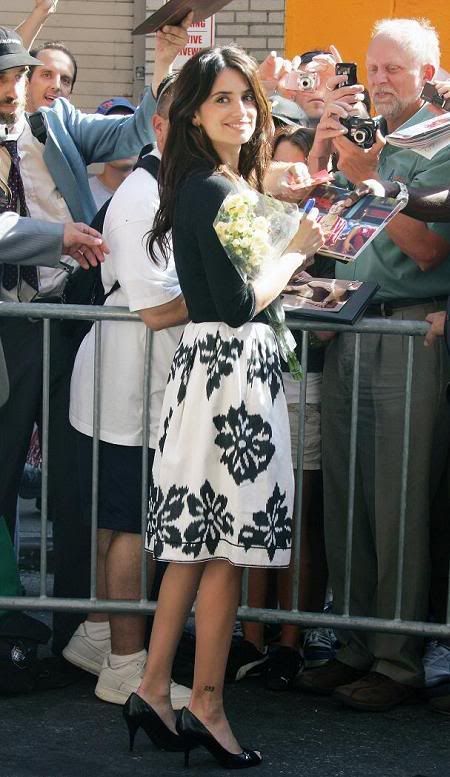 I really don't care for false modesty from celebrities – but a sufficiently grounded celeb gets my vote anyway. It's a little hard to tell which camp Penelope Cruz falls into. Though she is absolutely beyond stunning, the actress claims that she's not beautiful by her own estimation.
OK — there is officially no hope for the rest of us! Penelope Cruz, without doubt one of the most gorgeous women on the planet, thinks she's (ready?) not beautiful! When Parade magazine asked the Spanish star her secret for looking so amazing in both her new movies, Vicky Christina Barcelona and Elegy, she said simply: "I don't have any.

"I don't think I am beautiful. I can look good and I can look ugly. What's funny is that when I was younger I wanted everyone to look at me. Now I like to watch other people because you can learn a lot of interesting things."

But it sounds like the cast of Vicky Christina who showed up for the filming of her love scene's [sic] with Scarlett Johansson don't quite agree with her self-assessment. "The set was very crowded that day and I'm not sure everyone had a reason to be there," she said.
[From OK! Magazine]
Given the context, I believe Cruz is just being humble and realistic. We all have ugly days. It's like what Cindy Crawford once said about how even she doesn't wake up looking like Cindy Crawford. But I still can't imagine waking up looking anything like Penelope Cruz and not thinking, "Damn, I look fine." Or some variation.
Here's Penelope Cruz arriving at the Ed Sullivan Theater for the 'Late Show With David Letterman' on Friday. Photographer: Anthony Dixon. Images thanks to WENN.