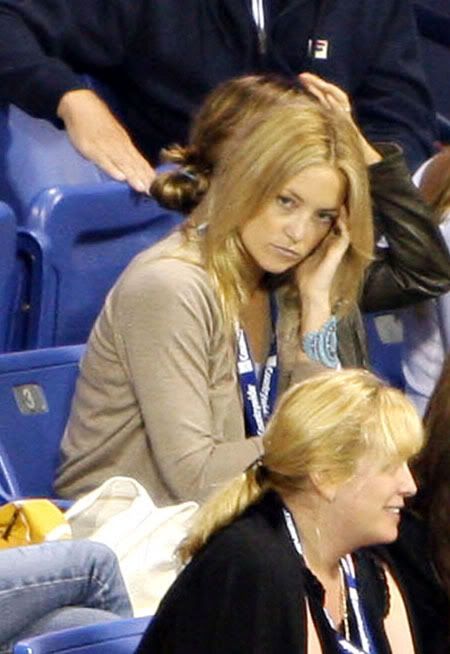 After a high-profile three-month romance, Kate Hudson and Lance Armstrong are no longer dating. What could have possibly gone wrong between these two photogenic athletic people? It depends on which tabloid you choose to believe. There may or may not have been a retired hockey player and/or a Black Crowe involved, and it's generally agreed that Kate moved too fast and Lance is too self-absorbed. Hey, the guy dumped her at his own cancer fundraiser.
 
Here's what the tabs have to say about the end of HudStrong.

In Touch: Kate Scared Lance Away!
According to In Touch, Kate smothered Lance by wanting a family with him.
She had planned to bring Lance with her to her annual family vacation in Muskoka, Canada. Last year, she brought then-boyfriend Dax Shepard, but this year, she had to go solo since Lance dumped her weeks before the trip.
"Lance had all of the qualities Kate wanted in a mate," a pal says….But Kate's desire to settle down put an end to their whirlwind romance. "Kate really wants another baby," the pal explains. "She definitely let Lance know that."
[From In Touch, print edition, August 18, 2008]
Lance, who already has three children with ex-wife Kristin Richard, wasn't interested in starting another family.
Although Kate is reportedly desperate to get remarried, she was beginning to get "disenchanted with Lance's self-absorbed attitude," according to another friend.
In Touch also reports Lance has already moved on. A witness overheard Lance saying he's single.
"He said it twice," says the witness, "like he was trying to make a point."
In Touch briefly mentions that while Kate was spotted in Muskoka with retired NHL superstar Eric Lindros, a friend says the two are not involved romantically and that "he's a long-time family friend" and "his girlfriend was also there."

Us: Why Kate Can't Settle Down
Us takes the stance that Kate wasn't as distraught as In Touch claims. Us paints Kate as more of a free-spirit, who falls in and out of love quickly.
If it seems sudden, you don't know Hudson, says a pal: "She throws herself into these relationships quickly, then she's just over it."
[From Us, print edition, August 18, 2008]
On July 24, Lance and Kate ate salmon and beef tenderloin at Alana's Food & Wine in Columbus, Ohio, where Lance was holding the kickoff to his LiveStrong cancer summit. Witnesses reported they seemed solid at dinner, but apparently they decided to end the relationship at that time. A source is quoted as saying "they just decided to end things. There's no hatred, just sadness."
Although neither's rep would comment, the split didn't surprise friends. One of Kate's friends says they split because of "scheduling." However, Kate's clinginess did play a factor.
"She's super-need y and must be the center of someone's attention," confides the pal. "They were having problems, and he ended it. I think she's also still hung up on Owen."
Us also disputes the Eric Lindros rumor, even claiming it was actually Eric's younger brother Brett with Kate in Muskoka, and it still wasn't romantic.
The NHL-er's sister Robin tells Us they are confusing Eric with their brother Brett, whom Hudson dated premarriage. The exes did hang out at Muskoka's Windermere Pub 'n' Patio July 25, says Robin, "but Brett's had a girlfriend for three years. Brett and Kate are just friends."
If she did hook up with either of the Lindros brothers, she moves fast — dinner with Lance in Ohio on July 24 and with Brett in Ontario on July 25.

Star: Kate's Revenge Romance!
Star agrees that Kate is broken-hearted after her break-up with Lance, but claims her sightings with Eric Lindros and Chris Robinson were ploys to make Lance jealous and win him back.
According to Star, it was Kate's clinginess that scared Lance off.
"Lance felt that Kate came on too strong, too fast," an insider tells Star…."She started talking marriage and babies almost right away." But her long-term plans were overwhelming for Lance, says the insider, and "he freaked out at the clinginess and bailed."
[From Star, print edition, August 18, 2008]
Star claims Kate is fueling the rumors about a fling with Eric Lindros so that it gets back to Lance. Kate also made sure cameras captured her affectionate kiss with Chris Robinson in New York on July 31. Their source says her alleged scheme "won't work… [Lance] already made it clear they are '100 percent done.'"
OK!: Kate's Caught Kissing Her Ex!
If Star is right about Kate wanting coverage of her out with other men after the split, then OK! hands her the rumors on a silver platter. OK! claims Kate snuggled up to ex Chris Robinson only four days after her breakup with Lance.
"They were affectionate," an eyewitness says of Kate and Chris. "They gave each other a kiss that lasted much longer than a platonic kiss should last — 20 seconds, maybe a little longer. It was more than 'just friends.'"
[From OK!, print edition, August 18, 2008]
The two are still friends, and share a child together, but OK! reports they have been hooking up regularly since last November, according to a friend of Kate's. But don't expect a full-blown reconciliation.

Truth vs. Fiction
So, here's what we can all agree on: Lance and Kate broke up, Kate was in Muskoka, Ontario with one of the Lindros brothers (who have girlfriends, so they couldn't possibly have hooked up with Kate, because athletes with girlfriends never ever cheat, right?), Kate met up with ex Chris Robinson later in New York, and I've devoted way too much time reading tabloid articles about this.
Kate is young and free-spirited, so if she's having a good time, more power to her. Hopefully she's not as desperate and manipulative as these tabloids claim, but she's definitely naive if she thought she could rope Lance into marriage and babies.
But she's not exactly care-free. She has a 4-year-old son, who must be confused about these intense relationships that fizzle so quickly. It's good to see she's on good terms with Chris Robinson, so that little Ryder has a stable father-figure in his life.
On a final note, this must be the most times the word "Muskoka" has been in the tabloids ever. Spellcheck suggests I change it to "muskrat."
Kate Hudson is shown out with Tobey Maguire's wife Jennifer Meyer at the Countrywide Classic Tennis Tournament at UCLA on 8/5/08. She looks upset because her friend Tommy Haas lost. Credit: ODuran/Fame Pictures. She is also shown out with Ryder on 8/3/08. Credit: FPZ/Fame Pictures