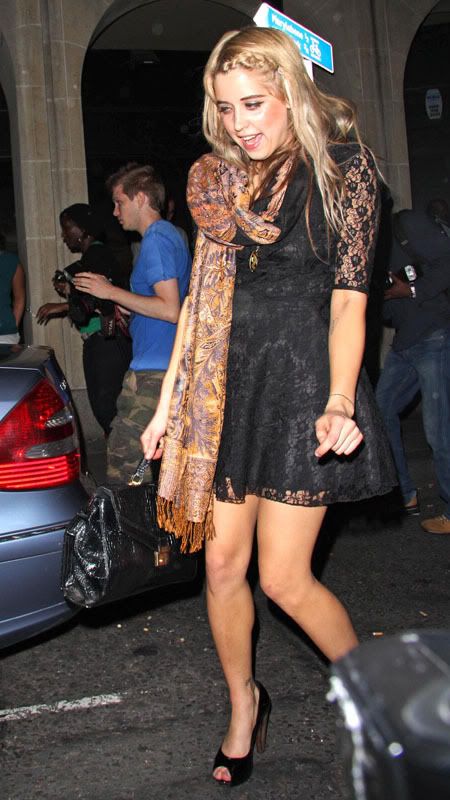 Peaches Geldof, daughter of rocker/humanitarian Bob Geldof, made some waves last week when she married her boyfriend of four weeks in Las Vegas. The 19-year-old train wreck, who has been in the news for a drug overdose and other wild behavior, wed American musician Max Drummey of the band Chester French in a last-minute ceremony at the Little White Chapel in Las Vegas. Sources say she called her father to get his blessing two hours before the impromptu wedding. Now, Peaches is back home in the U.K. – without her husband.
Peaches Geldof was beginning married life in London today separated from the husband she has known for just four weeks.

The 19-year-old daughter of Bob Geldof flew back alone from her shock 'quickie' wedding in a Las Vegas chapel to Max Drummey, a little-known American musician.

The 15-minute ceremony last week had only one witness and Peaches is reported to have told her father only two hours beforehand.

There is mounting speculation the wedding was a stunt to promote Drummey's band Chester French, who are about to release an album and are currently touring America.

The newlyweds released a statement through Peaches' agent last night confirming they had wed and that their marriage had the full support of family and friends. But it was laced with references to Drummey's music deals, prompting the suggestion the marriage was being used to enhance his career.

The statement said: 'Peaches and Max Drummey are delighted to announce their marriage. The couple tied the knot in a simple low-key ceremony in Las Vegas last week.

'Peaches first met Max two years ago. Max's band, Chester French, played at the ITV iTunes festival, where Peaches was co-host.

The acclaimed Boston band were signed by Pharrell Williams to his label Star Trak. Their marriage has the support of family and friends'

Peaches has reportedly been a fan of Drummey and his band for a couple of years. But it is understood they began a romance after meeting last month at the iTunes Festival.
It sure does sound like a publicity stunt- or at the very least, a cry for attention, like Britney Spears' quickie marriage to childhood friend Jason Alexander after her breakup with Justin Timberlake. Between the drug use and this, I'm sure her dad's blood pressure is through the roof right about now. But Peaches is 19 and legally an adult- she will be the one to deal with the consequences here. I predict this girl is heading for a major disaster.
Picture note by Celebitchy: Peaches Geldof is shown outside Maddox Nightclub on 7/3/08. I'm pretty sure that's the guy she married because he looks like the same one on D-Listed's article about her wedding. That pap is pretty rude to be grabbing her arm like that. Credit: ISO IMAGES/bauergriffinonline.com