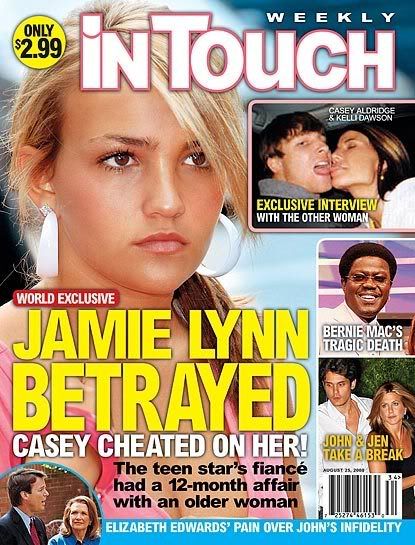 The rumors surrounding teen mom Jamie Lynn Spears' 19-year-old fiance and baby daddy, Casey Aldridge, are getting louder than ever. In Touch is reporting that Casey not only is having second thoughts about marrying Jamie Lynn because he feels "trapped," but he's also been fooling around with another woman for months.
But insiders say the teen parents of baby Maddie are having serious relationship trouble- and now Casey is anxious about the nuptials, which are scheduled for the end of the year. "Casey is not happy right now," reveals a pal. "He feels trapped. He's just miserable."

The pal says that Casey, 19, feels like he's being forced to marry Jamie Lynn, 17, because they have a child together.

"He was told it's the right thing to do," the pal explained. "But it's not the life he pictured for himself."
[From In Touch print version, Aug. 18, 2008]
Oh, boo hoo. I'm sure this isn't the life that Jamie Lynn, who was 16 at the time she got pregnant and enjoying a successful acting career, pictured for herself either. But she's sucking it up and trying to make the best of it, unlike the panty waste who impregnated her. In Touch also has an exclusive interview with Kelli Dawson, Casey's former girlfriend who claims that she was "hooking up" with Aldridge throughout Jamie Lynn's pregnancy, until a few months before she delivered Maddie. Dawson claims that Jamie Lynn knew about the affair and was furious.
In an exclusive interview with In Touch, 28-year-old Kelli Dawson reveals that she and Casey, 19, were romantically involved — and were still sleeping together when Jamie Lynn, now 17, was six months pregnant with his child. No fleeting hookup, Casey and Kelli's relationship was both real and lasting — and it grew in intensity, even as Jamie Lynn announced she was pregnant. And, Kelli says, they still meet up on a regular basis. "I see him all the time, at least once a week," she shares.

The pair first met in November 2006, at the home of her sister, Kim Toller. At the time, Casey was already dating Jamie Lynn, but the sexual chemistry between Casey and Kelli was instant. "We were both really attracted to each other," Kelli reveals. "He totally instigated it and pursued me. His friends would tell me that he liked me, that he thought I was pretty." The couple saw each other a few times and "kissed randomly," but it wasn't really "hot and heavy," Kelli admits, until the spring of 2007. Though Casey and Jamie Lynn were still involved, Kelli insists, "You never knew if they were broken up or not, because it changed from day to day!"

The pair didn't bother to hide their relationship. "Kelli and Casey have been a couple on and off for a few years," confirms Jason Alexander, Britney Spears' first husband and a native of nearby Kentwood, La. "They were a really tight couple, but I think it was hard for Kelli, having Jamie Lynn in the picture."

Kelli says she and Casey stopped sleeping together a few months before Jamie Lynn gave birth to their daughter, Maddie. "It just didn't feel right," she explains. "He had to deal with the baby coming, and it had to stop." She says the last time the couple had sex together was in March but "even after we stopped having sex, we would still kiss occasionally."
[From In Touch]
If this story is true, it's a far cry from the "perfect" life Jamie Lynn blathered on about in her interview with OK! Magazine in July. I knew that was a big fake just by how awkward Casey looked in those photos. However, this is "In Touch" we're talking about here- they rarely get anything right. The cover of that issue features a photo of Casey tongue kissing some skanky-looking ho, but it's impossible to know when that photo was taken- just like it's very difficult to know if this girl is telling the truth. The article does feature a quote from Britney Spears' first husband, Jason Alexander, but that guy would say anything to be in the tabloids again. All I can say is, if Jamie Lynn has even a whiff that this story is partially true, she should not marry this kid.