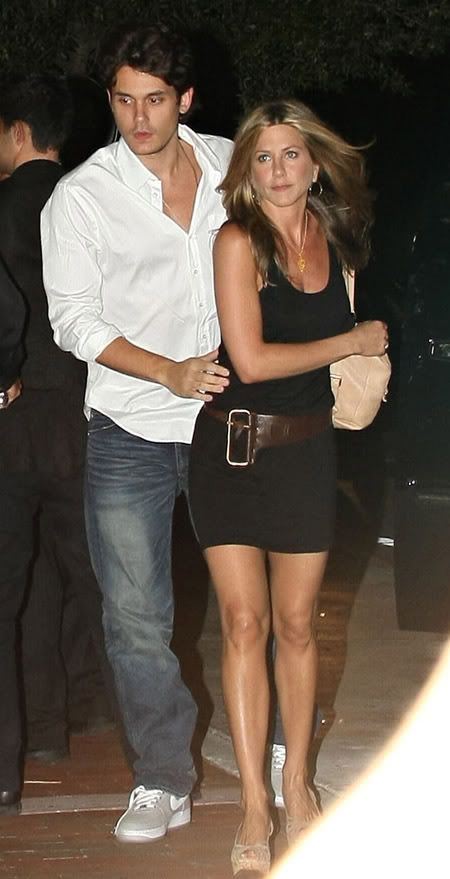 It looks like The Mirror broke this story accurately earlier today. Jennifer Aniston and John Mayer are split, "multiple sources," confirm to People Magazine. They typically don't run rumors, so we can probably count this one as true:
Jennifer Aniston and John Mayer have called it quits, multiple sources confirm to PEOPLE.

"They had a great time together but they are just in different places in their lives right now," says a source of Aniston, 39, and Mayer, 30, who kicked off their courtship in April.

A friend of Mayer adds that a reconciliation isn't necessarily out of the question: "He never ends things with a clean slate. He likes to dwell on these relationships and sort everything out before saying goodbye for good."

The split was first reported Wednesday by the U.K.'s Mirror, which said the couple split earlier this week, after initially deciding to spend some time apart.

Reps for Aniston and Mayer have declined to comment.
[From People]
That's what you get when you cry wolf, Mirror, people don't believe you at first if you've run fake stories in the past.
Meanwhile US Weekly says they're just taking a break or "cooling off" or whatever. I've heard that before and it usually means the relationship is doomed:
"It is really a cooling-off, not this big, dramatic breakup," a mutual pal tells Us Weekly in its latest issue, on newsstands now.

"These are mature people who talk about things maturely," the pal says. "It's just slowed down."

And though Us confirmed that Mayer's Cabo hot-tub companion was merely a friend (the wife of a bandmate), a source tells Us that Aniston planned to go but "cancelled at the last minute," opting to stay in L.A.

Since the 39-year-old actress and 30-year-old singer went public with their romance in April, she opened up to him about her desire for a baby, the pal tells Us.

"Who's to say where it will end up, but now he has a lot going on," the pal says.

Another source counters: "If she said she wants kids and he's not ready, that's not being needy. It's being honest."
[From US Weekly]
It looks like Aniston's dog was right.
Damn you, Aniston and Mayer, for making me invest in your relationship and actually feel let down that you're breaking up. Don't try and go back to each other and make it work, though. I've wasted a lot of years doing that and it's just like picking at a wound. You'll each find someone more suited to you and be a lot happier in the long run if you move on.
People didn't expect these two to work, and that's why I was hoping they would. Aniston is gorgeous and Mayer is well – rich and talented, and they'll find other partners. We're sure to hear about it too. Can you imagine if you and your ex were both famous? You could keep track of them for years without relying on whatever you can find out online. That would have it's drawbacks too of course. In fact it would probably suck. Better to find out through Facebook after you've had a few cocktails than to have it staring at you from every grocery, drug and convenience store.