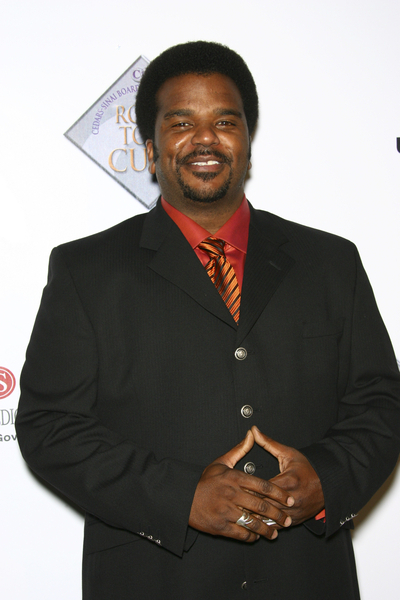 Considering it's pretty much the best sitcom on television right now, it's kind of surprising – in a good way – that The Office hasn't had to deal with any major scandals. Well, until now. Cast member Craig Robinson was arrested on June 29th for possession of ecstasy and meth. He was originally pulled over for some sort of traffic violation during which officers found the drugs.
We know what the topic of conversation around the water cooler is going to be next week. Craig Robinson, who in addition to his current role as a hit man in Pineapple Express is best known as Darryl, the warehouse foreman and Kelly's nonchalant suitor on The Office, is facing felony drug charges stemming from an arrest during a June traffic stop.

According to the criminal complaint released Friday by the Los Angeles District Attorney's Office, the 36-year-old actor was charged with two counts of possession of a controlled substance and one count of being under the influence of a controlled substance. In this case, that last "substance" allegedly included amphetamines, cocaine and cannabinoids—or any of the chemicals found in cannabis.

Robinson, whose credits also include Arrested Development , Curb Your Enthusiasm and Walk Hard: The Dewey Cox Story, was busted June 29 in Culver City, Calif., after officers pulled him over for a traffic violation and found drugs in the car, authorities said. Arraignment has been set for Aug. 21. Robinson's rep had no comment on the matter.
[From E! News]
This story bums me out. I naively like to assume that everyone on The Office is as wholesome and odd as they appear on the show. Perhaps it's because several of the supporting characters have the same name as the actors who play them. Or that many of the actors have MySpace pages and blogs (that it seems like they actually write) that are half them and half their characters. It really blurs the line, which I enjoy. It lets me believe Pam and Jim really are out there exchanging funny looks all day long. And now it's kind of blown. It's just not the same thinking the guys in the warehouse are actually doing speed.
Although it does make me think of this clip from the Drug Testing episode. Header image of Craig Robinson at the Road to a Cure Gala this past November. Images thanks to PR Photos.