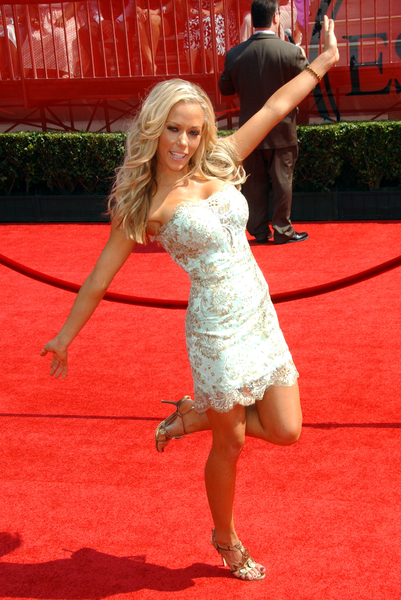 You'd think of all the serious issues plaguing Olive Garden – long waits, the batteries in the pagers dying out, running out of bread sticks, etc – the last thing they'd have time to worry about is their wholesome family image being tarnished. But that's exactly what's stressing out the Garden's bigwigs – though they're doing everything they can to be gracious about it.
Playboy Playmate, Hugh Hefner's girlfriend, and Girls Next Door star Kendra Wilkinson is a big fan of the OG. Which is what the cool people call it. So much so that she's actually said Olive Garden is better than any restaurant in Italy. She's constantly eating their food and blabbing about on in the show. But lest you think it's some clever product placement, let us be clear that Olive Garden has nothing to do with it – and has been made mighty uncomfortable by the Playmate's pasta fetish.
To the consternation of Olive Garden's marketers, who have spent millions crafting the franchise's family-friendly image, the 23-year-old adult-entertainment star and aspiring real-estate mogul repeatedly uses her spotlight to rave about its midprice eateries. Wilkinson hoists Olive Garden doggie bags in the air and extols its chicken parmigiana. She once scandalized European diners by declaring the Olive Garden preferable to any restaurants in Italy.

Wilkinson, whose tan skin and blonde-white hair project classic California, isn't on the payroll. She is a rogue brand ambassador: a celebrity who is genuinely, publicly devoted to a product or service, even if he or she doesn't quite embody the values that the brand's managers may be trying to convey.

Executives at Olive Garden declined to discuss the uninvited spokesmodel. One official said the company has tried to walk a fine line with its response, maintaining the chain's wholesome image without alienating potential customers. "I don't feel comfortable talking about this . . . because it is a complicated issue for the brand," said Michele Kay, executive vice president of WPP Group's Grey advertising firm, which handles the Olive Garden account.

Wilkinson said that when she started praising the restaurant on television and on her very popular MySpace page, it never crossed her mind what the folks at Olive Garden might think. "I don't speak about it to get paid for it," she said. "I speak about it because I love it. I understand they're a family restaurant, but I think it can't hurt them to have a little spice."
[From Rocky Mountain News]
Apparently Olive Garden doesn't want to offend Kendra or any of her (presumably) millions of fans, nor do they want images of frolicking bunnies associated with their brand. As long as Kendra's not walking into her local restaurant wearing the bunny costume it seems like everything should be fine. If not I'm sure TGI Friday's would love to have Kendra promote their Jack Daniel's Chicken & Shrimp or something.
Here's Kendra talking about how much she loves Olive Garden. Header image of Kendra at the ESPYs on July 17th. Images thanks to PR Photos.