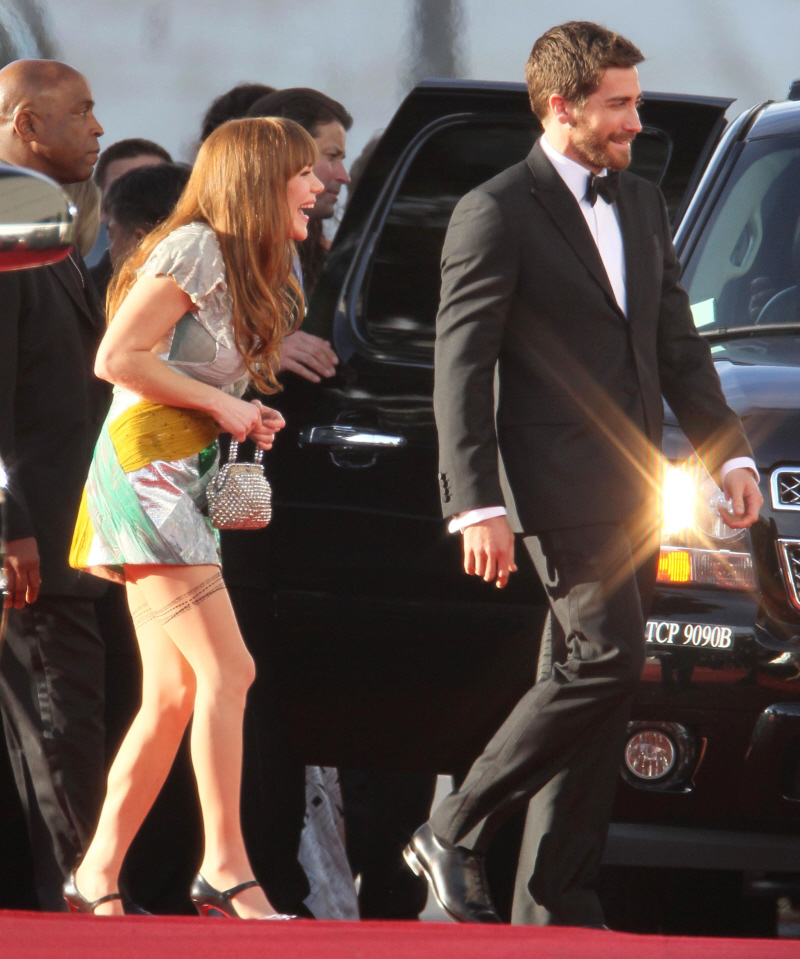 Fresh from his unicorn-and-tears-filled breakup with Taylor Swift, Jake Gyllenhaal decided it would be best to not fly solo at the Golden Globes. So he brought a "friend". More specifically, an "ex-girlfriend" named Jenny Lewis (in the photo above), who Jake allegedly dated many, many years ago, and who he has remained "friends" with. There was some muttering that Jenny and Jake might be back on, but that's not the case:
Jake Gyllenhaal surprised everyone by showing up to the Golden Globes on Jan. 16 with some new arm candy, but Life & Style can exclusively reveal that the date was strictly platonic.

"Jake and ex-girlfriend Jenny Lewis went to the Globes as friends," a source tells Life & Style. "Jake and Jenny haven't dated for years. They're still friends, and they went as friends."

Jake found himself Hollywood's hottest bachelor once again after splitting from country cutie Taylor Swift just weeks ago. Could Jake's broken heart lead him to try to rekindle things with his former flame? Not a chance, according to the source.

"Jenny and Johnny [musician Johnathan Rice] have been together a long time," says the source to Life & Style. Jenny, a member of the band Rilo Kiley, teamed up with her beau recently to create the group Jenny and Johnny. "They just released a record together in the summer. They haven't broken up."
[From Life & Style]
So Jake brought a "just friends" date for the Globes, and the girl has a boyfriend who has no problem letting his girlfriend go to a high-profile event with another dude. Doesn't that sound like a situation where the girlfriend gets a "pass" to do whatever she wants to with her best gay friend? Whatever, Jake was around a vagina, so now will have to stop asking him about whether or not he got to second base with Taylor Swift's stuffed koala. RIGHT?!? So Jake put on his big-boy panties and butched it up at the after-parties, "flirting" with every available vagina he could find.
He didn't win best actor, but Jake Gyllenhaal took the top prize for flirting the night of the Jan. 16 Golden Globe Awards.

"He was talking to so many girls!" a witness tells the new Us Weekly of the actor, 30, who ended his whirlwind romance with Taylor Swift, 21, just two weeks earlier.

"At CAA's after–party, Jake macked on Maria Menounos — and he was definitely trying with Scarlett Johansson!"

The star — who brought ex Jenny Lewis, 35, to the show (he dated the singer in 2001) — also chatted up Mila Kunis, 27, that night.

Says the source, "Jake seemed interested, but he's not her type."

Later, he hit the Chateau Marmont and got close to Brokeback Mountain costar Michelle Williams, 30. Says an insider, "His hand was on her knee!"
[From Us Weekly]
Yeah, Jake should really keep his douche hands off of my Mila Kunis. As for Michelle Williams… well, that seems like his "type" right? He likes petite blondes. And Michelle has that wispy, Kiki-Dunst-quality that Jake seems to like too. Should Michelle and Jake happen? Sure. I don't even care if Jake won't touch her boobs. After Michelle's appearance in this God-awful daisy dress, I feel like she needs to mix it up a little.
Now that you've heard all about the heterosexual flirting that went down, don't you feel guilty for thinking that Jake and Ryan Seacrest were cruising each other during the red carpet interview? Yeah. I thought so.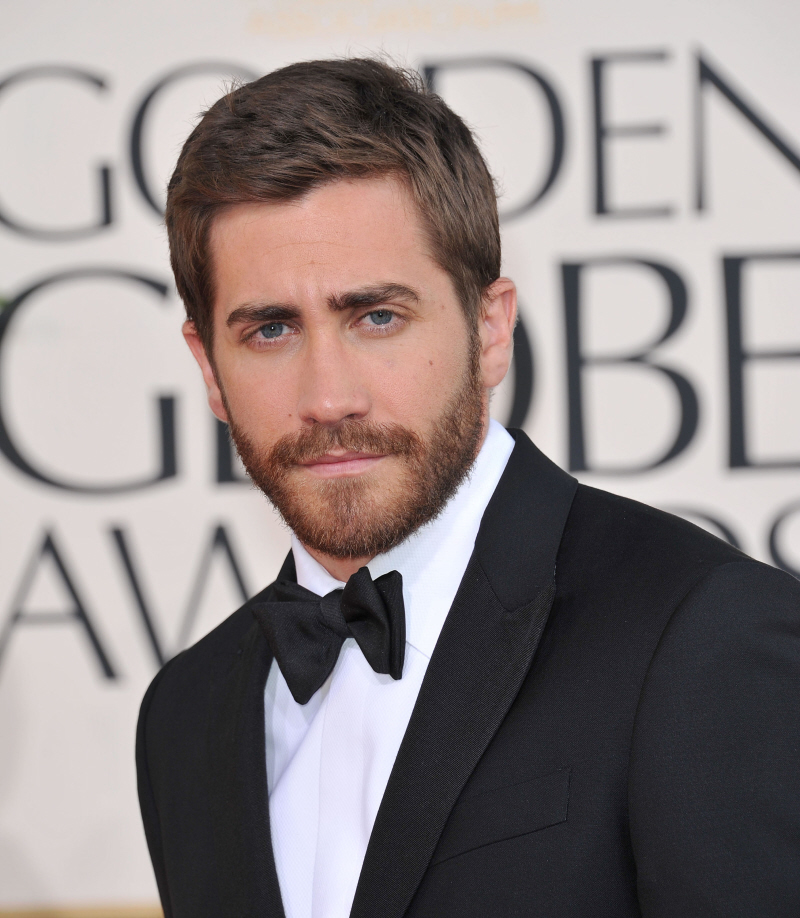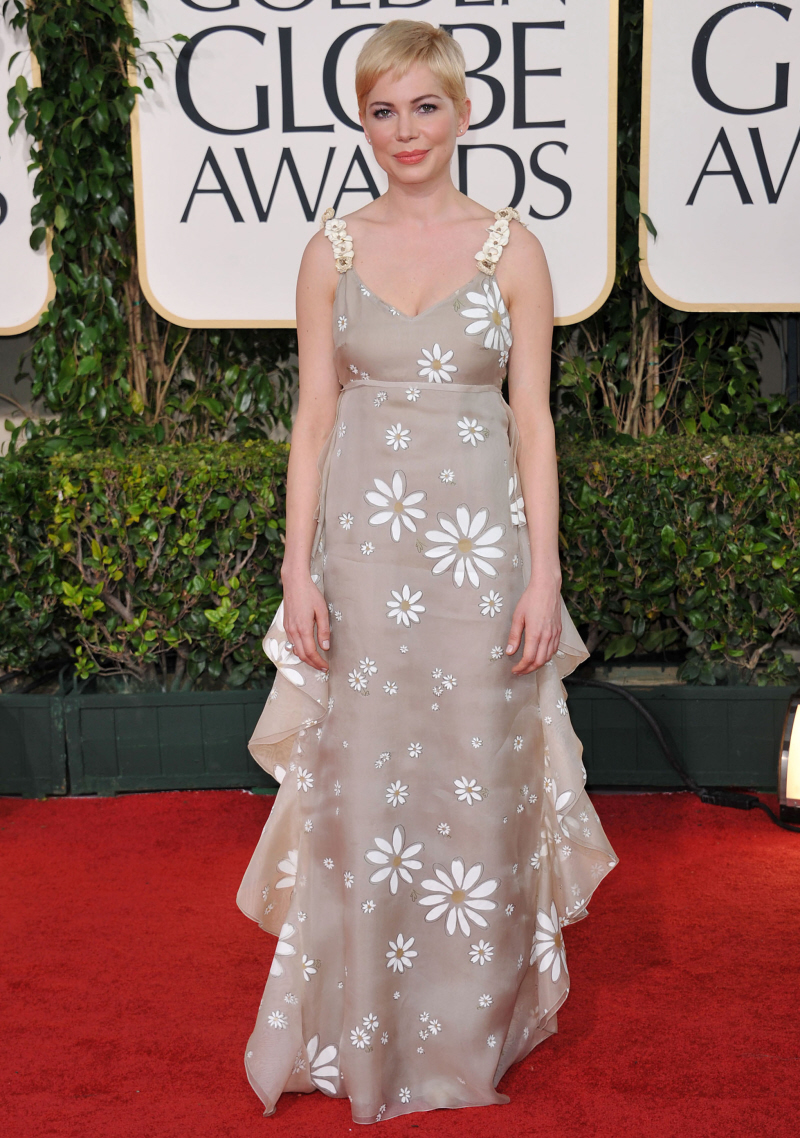 Photos courtesy of WENN.