Reality star Brigitte Nielsen is just 45 years old. I thought she was about 10 years older than that, probably due to her ragged appearance prior to her recent cosmetic surgery. Nielsen sat down with Hello! Magazine at her home in the South of France with her fifth husband, former waiter Mattia Desi, 30. Alcoholic Nielsen is looking a lot better after having an eye lift, breast lift and liposuction. She's sober after kicking the booze and cigarettes through the help of Celebrity Rehab and Dr. Drew, and she says she's ready to try for a baby with her younger husband.
Nielsen is working out with a personal trainer to prepare for her upcoming spread in Playboy Magazine later this year, and says that once she's completed that she'll try to get pregnant. She has four sons from three different men, and her boys range in age from 13 to 24. Nielsen admits that her drinking made her a bad mother to them: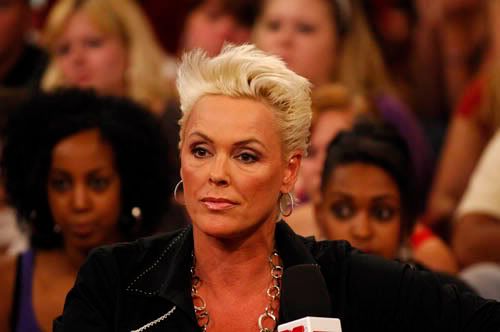 You're appearing in Playboy later this year…
"This December it will be 20 years since my last Playboy shoot. So back in LA I'll get a personal trainer and tone up. It's a great challenge and if I can do it I'll be very, very happy. If my body's in good shape, I want to show people I worked hard at it. Maybe that's a Danish thing…."

You've said you've been portrayed as a bad mum…
"I've been a bad mum at times – when you take the bottle over your kids, you're a bad mum. But I love them and there has always been a close bond. I've been affectionate, caring. It's unfortunate they've seen me in a bad way. But kids are great, they're the most unconditional, forgiving people."

What are your future work plans?
"I want to give advice about drugs and alcohol to young people. I'd also like to produce – I have two ideas for shows about people in need that I want to take to Oprah Winfrey."

Finally, would you like children with Mattia?
"We're going to try. After I do Playboy, we want to try IVF. It's asking a lot, but if it's possible ,it would make our package complete."
[From Hello! Magazine, print edition, August 26, 2008]
If she wants to have another child and feels prepared for it there are options for her. There are risks of course at her age, but if she opts to use donor eggs the risks are reduced. Marcia Cross had twins at 44, and she hinted to the press that she used donor eggs. Other celebrity moms to have babies post-40 include Holly Hunter, who had twins at 47, and Geena Davis, who also had twins at the age of 47.
Brigitte Nielsen is shown at Germany's MTV TRL on 8/8/08. I saw that interview and she seemed pretty candid about her addiction problems and what she went through as an alcoholic. Credit: WENN