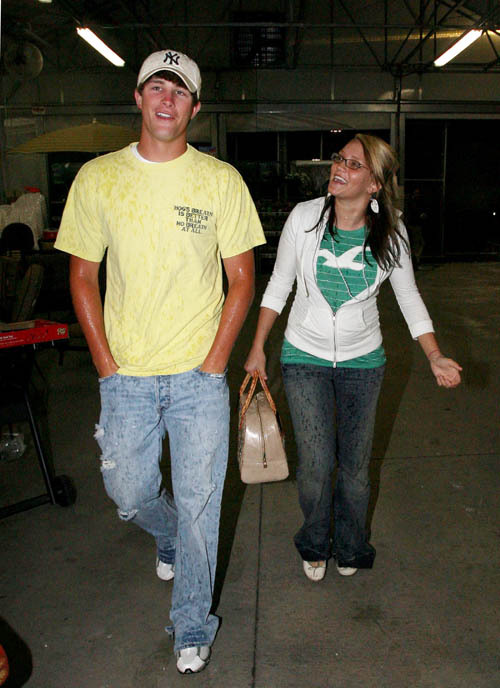 In Touch is claiming that Jamie Lynn Spears has walked out on Casey Aldridge and is living with her mom. In Touch originally ran the story of Casey cheating on Jamie Lynn while she was pregnant, but TMZ has it on relatively good authority that they bribed the woman he supposedly cheated with, Kelli Dawson, just did it for some cash and notoriety. So you've got to take everything In Touch says about this relationship with about a hundred grains of salt. Or one really big chunk of sea salt. Whichever is less believable.
According to In Touch, Jamie Lynn is absolutely miserable, and is living with her mom Lynn right now.
A hurt Jamie Lynn, 17, sought solace by leaving the home she shares with Casey in his hometown of Liberty, Miss. – and staying at her mom's estate, Serentiy, 30 minutes away in Kentwood. "She is spending time with her mom because she needs her right now," says a friend.

Jamie Lynn is turning to her parents for support," the al adds. She is devastated."

But as shocked as Jamie Lynn is, friends of Casey's aren't as surprised by Kelli's claims. "Rumors have long been circulating that he has a wandering eye – especially when Jamie Lynn is out of town," confirms a pal of Casey and Kelli's.
[From In Touch, Sept. 1, 2008, print ed.]
The magazine goes on to give these very vague quotes from "local friends" of Jamie Lynn and Casey. It's all so vague that it would be pretty easy for anyone to surmise that kind of trouble about a young couple with a new baby. It certainly doesn't take "insiders" to figure out that there's probably a lot of stress and tension and that teenagers aren't really sure if they're ready to walk down the aisle.
In Touch doesn't say that the wedding is actually postponed, just that it's the last thing on Jamie Lynn's mind. Hopefully she won't actually marry Casey, whether or not he's been cheating. They're both way too young. For now they should focus on raising their daughter and reducing the drama in their lives.
Here's Jamie Lynn and Casey in April. Images thanks to Fame.