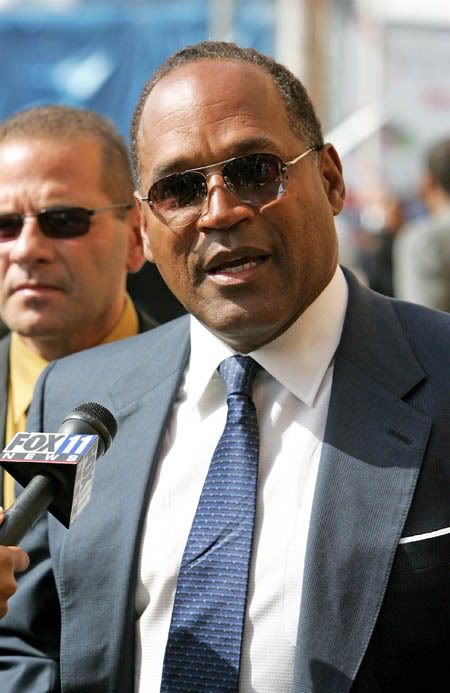 It looks like former football star and not-quite-exonerated murderer O.J. Simpson got a little taste of his own domestic abuse medicine at the hands of his oldest daughter recently. Arnelle Simpson, 39, "went berserk" on her estranged dad during an argument over his treatment of Arnelle's mother and O.J.'s first wife. The police were called by Arnelle herself after she shoved her father into a glass cupboard, which shattered, causing cuts on his head.
THE NATIONAL ENQUIRER exclusively reports O.J. Simpson's daughter went berserk, attacking both him and his girlfriend!

Cops sped to the home of the disgraced footballer and Naked Gun star on Aug. 24 after he was attacked by eldest daughter Arnelle, 39.

"He was cut on the back of his head, blood was coming out the side of his mouth and his lip was cut," a source told THE ENQUIRER.

O.J. and Arnelle had a war of words about how her mom, Marquerite, O.J.'s first wife has to work at Walmart just to make ends meet because O.J. gives her no money — but does support current girlfriend Christie Prody.

As tension mounted, Arnelle lashed out at OJ for ditching Marquerite, his high school sweetheart, to marry Nicole Brown whom Simpson was later acquitted of charges of Nicole's murder in 1994.

In a rage, Arnelle shoved O.J. violently into a glass cupboard in the kitchen.

"O.J. hit the cupboard hard and the glass shattered all over him. He fell to the floor, bleeding," said the source.

Arnelle, in a moment of guilt, dialed 911 but panicking, hung up.

Despite that, police cars were dispatched to O.J.'s house in Kendall, Fla., near Miami, after the call was tracked to his address.

According to the police report, Simpson told cops he didn't want to file assault charges against his own daughter.
This sounds like a confrontation that's been a long time coming. However, a 39-year-old who still resents her father for divorcing her mother could probably use some therapy. Still, the only thing that surprises me about this story is that O.J. wasn't attacked by one of his children with Nicole Brown instead. Now those kids have something to be pissed about.
OJ Simpson is shown talking to press outside Johnnie Cochran's funeral on 4/6/05. Credit: David Livingston / WENN