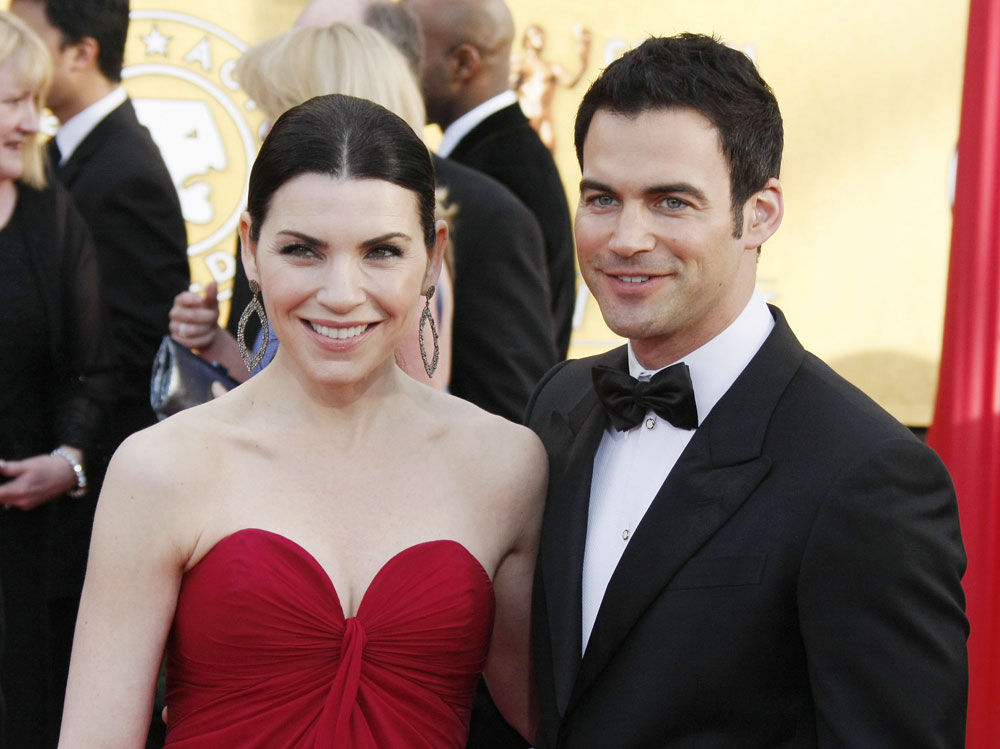 I doubt I was the only one who noticed Julianna Margulies' very attractive husband in the audience at the SAG Awards on Sunday. I've seen the guy before in candid photos and was impressed, but he's just so striking on camera. Plus Julianna gave him a shout out by thanking her in laws for "producing the most spectacular human being who I get to call my husband." Way to make the rest of us look bad, Julianna.
Julianna is a guest on the Ellen show today, and the Ellen people sent us a transcript. She talks about how she met her husband at a dinner party she decided to go to at the last minute, and adds that she feels bad when people "objectify him" because he's an educated lawyer and is so much more than just a hot piece. I don't get that dichotomy because this woman is getting the best of both worlds and should just embrace it.
How she met her husband
I met my husband at a dinner party that I wasn't going to go to through an agent I didn't sign with…I remembered his [agent] birthday six months later and just texted him, "Happy birthday" and he said, "I'm actually here in the city, come have dinner with us." I was like, "I'll come for a drink." I just started a Broadway show so I didn't want to stay out late. Famous last words. I went and there was Keith. And Keith had gone to Dartmouth and this agent was his RA and he just happened to be at this dinner.

On thanking her in laws during her SAG acceptance speech
I really meant it. I really love my in laws. And I'm so proud of how they raised their two sons. My husband and his brother are just remarkable, good human beings. And I really meant it.

On feeling bad when people call her husband hot
I feel bad because people objectify him and they're like "Oh, you're husband is so hot." The truth is, he is unbelievably bright and smart and went to Harvard Law.

On her pick up lines
Well, when he came over to me, I said, "Look, I just think you are so handsome. Are you a model or an actor and are you 12 [years old]?"

I said, "Are you an actor?" Because as much as I love you all, I can't. I'm done." And he's like, "No, I'm a lawyer." I'm like, "Really? Where do you practice?" And he's like, "I was a Wall Street litigator for six years." I was like Really? You're 12." He's like, "No, I'm not." And I'm like, "What's your name?" And he said, "Keith Lieberthal" I was like, "You're JEWISH?!"
[From The Ellen DeGeneres show, received via e-mail]
Oh I see – Julianna first noticed that her husband was hot before she was impressed with his career, but she wants other people to know that he's much more than that. The lucky bitch. There's no reason to get defensive about it. If someone told me my husband was hot I would just be like "thank you" and give them the stink eye. I think Julianna just feels bad because people assume she got herself a model or an aspiring actor.
Julianna, 44, and Keith (whose age I can't find) were married in 2007 and have a son, Kieran, who turned two last month.
Photo Credit: WENN.com