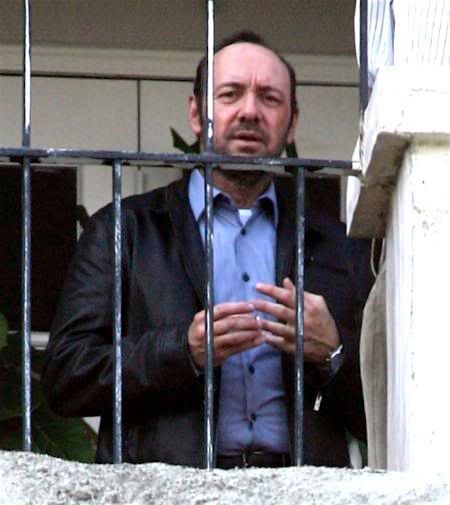 There are some people that I really don't want to acknowledge having a private life. Former school teachers. Bus drivers. Politicians. Really anyone I was introduced to before the age of 23. Seeing them as anything other than wholesome, one-dimensional people really freaks me out. And while I've never met Kevin Spacey, seeing him as anything other than a guy who's super into acting (and may have some vague private proclivities of his own) really messes with my head. I have no ability to imagine him as anything other than one of his characters.
So I'm going to assume he was just playing a really unusual, sexually vivacious guy the other night. It was research for a role, and right after this he's going to play some sexually pent-up father. But probably not. Spacey was spotted (and very clearly photographed) at a party in Croatia a few nights ago where he pulled down another guy's pants and groped him.
KEVIN SPACEY shocked revellers at a wild party in Croatia when he pulled a male pal's trousers down and groped his buttocks.

The American Beauty star was snapped on holiday in Hvar getting to grips with the bare butt as his friend lay across his lap.

An onlooker said: "Kevin looked like he was a having a brilliant time.

"Most of his friends were laughing, but I couldn't see the face of the man whose butt it was."

In 2004, the Oscar-winning actor – who's also Artistic Director at London's Old Vic theatre – sparked speculation into his private life after claiming he was mugged while walking his dog on Clapham Common at 4am.
[From the Sun]
Okay before you get all judgy, who amongst us can honestly say he or she hasn't yanked down a guy's pants and played a little grabity? Damn near all of you, and don't think for a second I don't know it. To be fair, we really can't see the face of the guy being fondled, but his butt doesn't seem upset or anything. I have a degree in criminology and I can state as an absolute almost-professional opinion that it appears everyone involved was totally alright with this. Though I will admit they probably didn't want the pictures ending up on the internet. At least Kevin Spacey didn't.
We can't post the pictures here, but you can see them on Mr. Paparazzi's site. I probably don't have to state this, but the naked guy's butt is NSFW, depending on the laxity of your internet guys.
Here's Kevin Spacey on set of his new movie (WENN notes he's "with a double chin") in L.A. on July 15th. Images thanks to WENN.