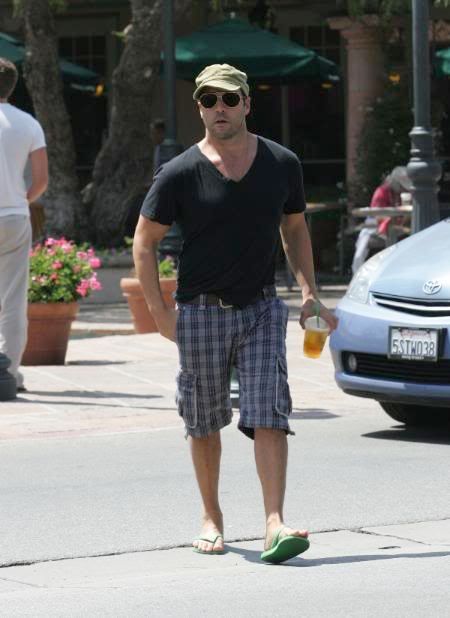 Jeremy Piven must have one of the worst reputations in Hollywood. You never hear anyone even say something as nice as "He's the male Paris Hilton." Brandon Davis throws up when someone says his name. The vilest creatures consider this guy too low to talk about. Though John Mayer gives him props.
Piven used to star on Ellen DeGeneres' sitcom as a balding nerd. Though he looks pretty much the exact same – just 15 years older – somehow he got a part on Entourage which instantly made him cool. Apparently it's something about saying the F-word a lot. Now the Pivs drops by the coolest parties, nails the hottest chicks, and shits crab cakes or something highfalutin like that. And he knows it.
Last year Piven hosted VH1's Fashion Rocks. Instead of being grateful anyone even knows who he is – I don't understand how any semi-logical person could think otherwise – Piven seemed to expect the models and the rock stars to kiss his ass, and he was well-nigh pissed when it didn't happen. So this year he's been asked to please stay the hell home.
DON'T ever expect to see "Entourage" star Jeremy Piven back at "Fashion Rocks," the Condé Nast-sponsored concert that celebrates Fashion Week. Last year, production insiders say Piven, who hosted the show, was a "nightmare," insisting on a separate green room and rewriting the script up until the last minute. "And it wasn't even funny," the source said. This year, Fashion Rocks decided to go with "a more trustworthy and mature host, Denis Leary, who also has a background in stand-up and could make the necessary transitions onstage," we're told. The show – featuring Beyoncé, the Black Eyed Peas, Chris Brown, Rihanna and Justin Timberlake – will tape Friday and air on CBS Sept. 9. A rep for Piven said, "Not true. He had his own room, just like everyone else, and came in a week early to work on the script as expected."
[From Page Six]
That's funny. Because I saw about half an hour of last year's show and the only joke of Piven's I laughed at was the one where he got everyone to think he was cool and sexy and relevant and should somehow be part of the show. I'm not saying Fashion Rocks is anything epic. But if rolling through a Dairy Queen's drive-thru was considered epic, I'd say it'd still be a bit too much for Jeremy Piven.
Here's Jeremy Piven on Saturday. Images thanks to Fame.