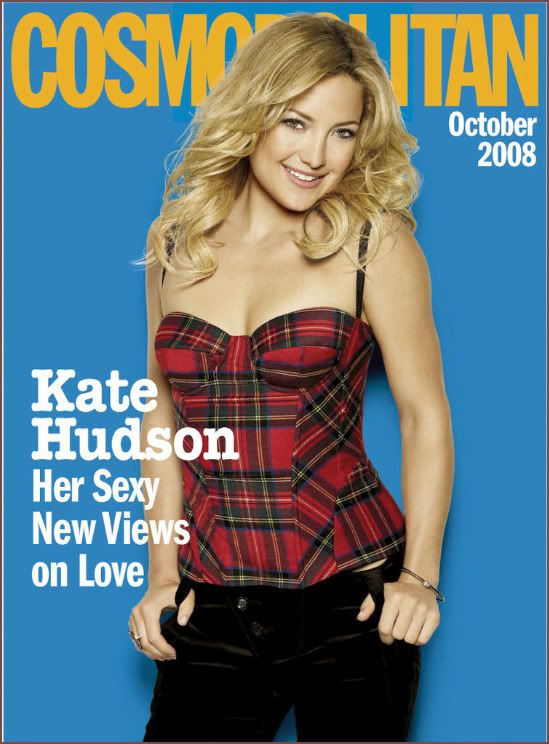 Kate Hudson has a new interview in the October issue of Cosmopolitan in which she gives some minor details of her life. She repeats her standard line about how she's still friends with her ex, Chris Robinson, and adds that they even "basically" live together. Hudson says that divorcing was the best thing that happened to them as a couple. Hudson, 29, and Robinson, 41, separated in 2006 after six years of marriage and were officially divorced last year. They have son Ryder, 4 and a half, and are sharing custody.
Hudson also says that she's not out partying like she used to because she'd rather be with her son.
Kate Hudson is featured in the October 2008 issue of Cosmopolitan magazine which hits newsstands on Tuesday (September 9).

On her ex-husband Chris Robinson: "Look – Chris and I are still basically living together! We've figured it out. I mean, obviously, nothings perfect, but I could never look at our divorce as a mistake. If anything, it's the best thing that ever happened to us.

On giving up her partying ways for a child: Am I going to look back and say, 'God, I wish I could have gone to that concert?' I'd rather be listening to my son sing songs. I'd rather be watching him sleep.

On a soulmate: Every girl wants a fairy-tale ending. And I believe it's possible. Absolutely.
[From Flawed Hollywood via ONTD]
She's not revealing anything she hasn't said before, except for the part about living with her ex husband, which brings up all sorts of questions. Is that confusing for her son or helpful that he gets to see his dad so often? Hudson does get some flack for falling in love quickly and introducing her son to her boyfriends, although she seems like a devoted mom. She goes out occasionally but you don't see her at the clubs on the weekends or hitting the Hollywood hot spots that would be sure to welcome her. I didn't really get it when everyone was jumping on her for falling in love with Lance Armstrong this summer, as if she was somehow a bad mom for bringing Ryder with her on dates. If anything it seemed like she just wanted Ryder with her and was maybe a little overeager about a great new boyfriend. It didn't turn out that well for her, but maybe she'll have better luck with the next guy. There are certainly plenty of men that would be happy to commit to her, but they'll need to accept her nontraditional relationship with her ex husband first.
Kate Hudson is shown out in Beverly Hills on 8/14/08. Credit: Fame. She's also shown out with Ryder in NY on 8/3/08. Credit: WENN