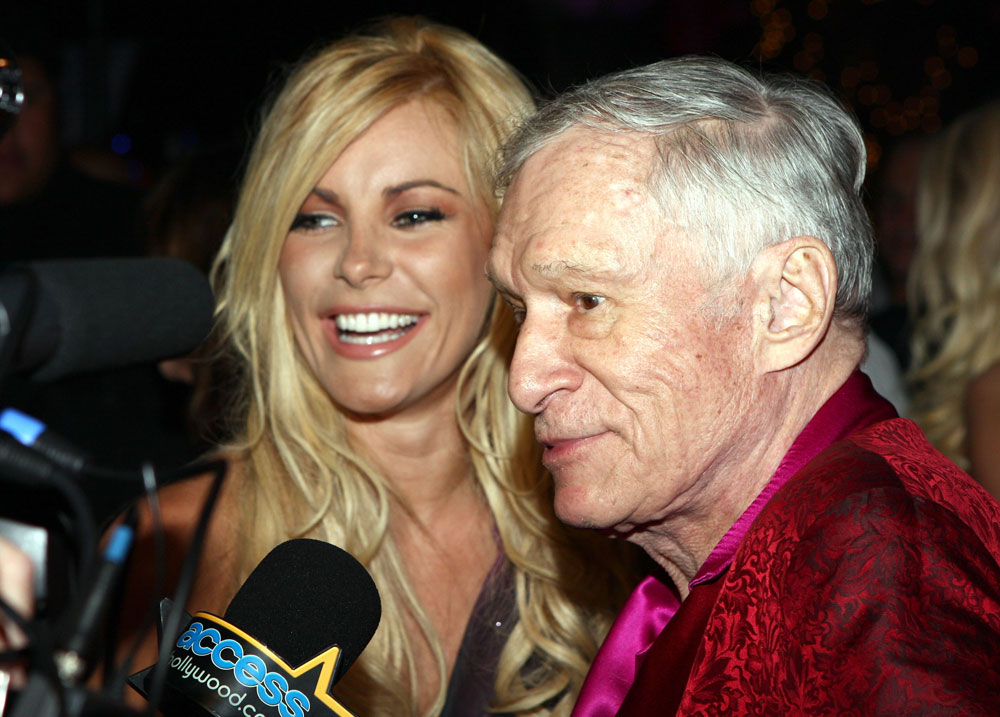 The NY Times has an extensive profile and interview with Hugh Hefner, the 84 year-old Playboy found who is currently engaged to a 24 year-old Playmate. They paint a picture of Hef as a kind of durable icon of years gone by, a living symbol of a sophisticated outlook on sex that has become almost quaint. Despite the way that Hef continues to take up with women who are young enough to be his granddaughters, he's portrayed as a decent guy who is not trying to hide his lifestyle or his preferences. I get a similar impression of him, but that doesn't mean his actions are any less skeevy. Here are some choice excerpts: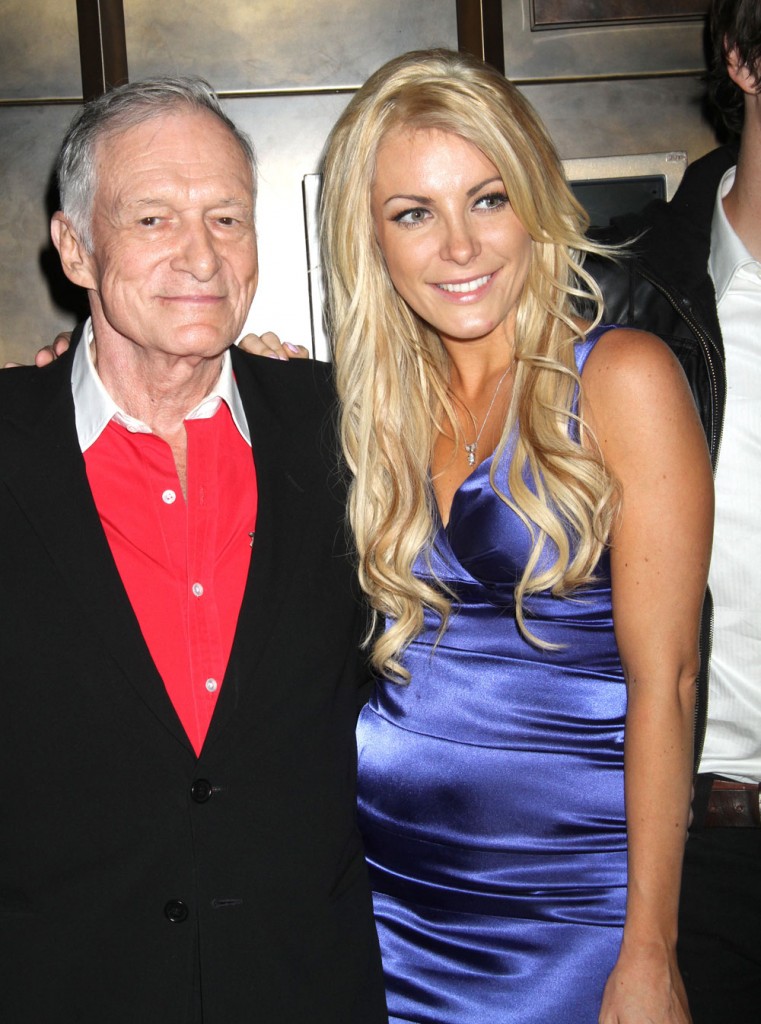 On how Hefner isn't a sleeze
Hefner is a little odd, certainly, but not a sleazebag. He has none of Bob Guccione's oiliness, or Larry Flynt's leering vulgarity. His manner is open and direct, and his language is as clean as a Midwestern Rotarian's. By his own lights, having purged himself of the shame and hypocrisy that is part of most Americans' sexual baggage, he leads a life that is exceptionally honest and moral. It's also a life that is exceptionally well documented.

Hef's sexual history and how he founded Playboy
A late bloomer sexually, Hefner didn't masturbate until he was 18, and after years of foreplay, he finally managed to lose his virginity when he was 22, but he read Kinsey as if Kinsey were a prophet and became a student of marriage manuals and sex handbooks. Playboy was the sort of sophisticated, sexually adventurous publication he fantasized about. He scrounged money, including $1,000 from his mother, and laid the first issue out on the kitchen table, writing much of the copy himself. His greatest piece of luck was his choice of the first centerfold: a nude calendar photo of Marilyn Monroe taken four years before. It remains by far the sexiest of all Hefner's pinups. Where subsequent Playmates all have a health-club aura, as if they've lately come from the tanning bed or a Pilates session, Monroe, flushed and languorous, looked as if she just had an orgasm.

On how Kimberley Conrad cheated on him
Hefner now says that his 1989 marriage to Kimberley Conrad, January Playmate of the Month the year before, was an attempt to seek refuge — a "safe harbor from the waves." "I was not well, and I felt my years," he told me. "I felt much older then than I do today." He and Conrad broke up in 1998, though they did not divorce until 12 years later. "During the marriage I was faithful," he said to me emphatically, "and she was not." (Hefner, for all his advanced views, clings to the double standard and has never entirely got over his first wife's admission that while they were engaged she had an affair with a high-school coach.) The aftermath, he now admits, was "overcompensation," as he began dating posses of women, including one named Brandy and a pair of twins named Sandy and Mandy. "You can't make this stuff up," he said, laughing at himself. At one point, early in his '80s, he was living with seven young women and trying vainly to enforce a 9 o'clock curfew to keep them from dating anyone else.

On how Hef keeps scoring women
What do the women see in him? A friend, a mentor and a meal ticket more than a sex symbol, most likely. Live-in status at the mansion brings with it — or used to bring, before Hefner pledged himself to Harris — a stipend of $1,000 a week, paid out in cash by Hefner every Friday, and there was also free hair care, a car allowance and additional sums available for breast and dental implants and for special-occasion clothing. Sex with Hefner was not a requirement, strictly speaking, though most of his girlfriends did sleep with him, it appears, either out of gratitude or because of pressure from the others.

Crystal on their relationship
When I asked Crystal Harris whether her relationship with Hefner was sexual, she looked at me for a moment. "I don't know how to respond to that," she said, and then added, after a pause: "You mean sexual relations? Sure." But she went on: "Hef has hooked up with a lot of people, but that's not what makes him happy these days. He's much happier just cuddling and snuggling with the dog." They watch a lot of old movies together, she said, and she also likes trying to break him out of his unbudging routine. Just recently she persuaded him to try sushi and shepherd's pie.

Hef on why his girlfriends never age
"Well, I guess I know what I like," Hefner said when I asked him if he didn't think it odd that as he got older and older, his girlfriends remained the same age, all in their 20s and all conforming to an unoriginal model of perky blond buxomness. He was in his standard daywear — red silk smoking jacket and black silk pajamas — and sipping a Pepsi while sitting in the mansion's largely bookless library underneath a huge breast-baring ceramic bust of Barbi Benton, one of the few brunettes ever to catch his eye. "You do give up something in the process," Hefner went on, acknowledging that most of his girls have never listened to his kind of music — jazz and the big bands of the '30s and '40s — and have never heard of Betty Grable and Alice Faye (who probably imprinted that sexy blond template on him in the first place). "But you gain something, too. There is something wonderful in the student-teacher relationship — the rediscovery, the chance to have a relationship with a younger woman. It permits you to see the things you love with a fresh eye, makes them exciting again. And I don't think there's any question that surrounding yourself with youth keeps you younger."

Hef is just an old dude after all
"It will be easier to perpetuate my story when I'm not around," Hefner told me. "Because then nobody will be pissed off that I'm still getting laid." He also pointed out that his mother lived to be 101. Then he went back upstairs to his legendary bedroom, which these days is a bit of a mess: stacks of old movies on tape and DVD, knickknacks and tchotchkes everywhere, childhood photographs on the mantel, panties dangling from a chandelier and, nestled together on a sofa, a couple of hundred stuffed animals. It looks less like a love nest than the cave of a hoarder unable to let go.
[From The NY Times via Huffington Post]
The article also talked about the future of Playboy, which is expected to be taken over by Hef's sons from Kimberlyy Conrad, now young adults at age 19 and 20. The journalist admitted he only spoke to the boys briefly but calls them "sweet and slightly spacey," adding that they "seem a little young for their age." They must take after their dad that way.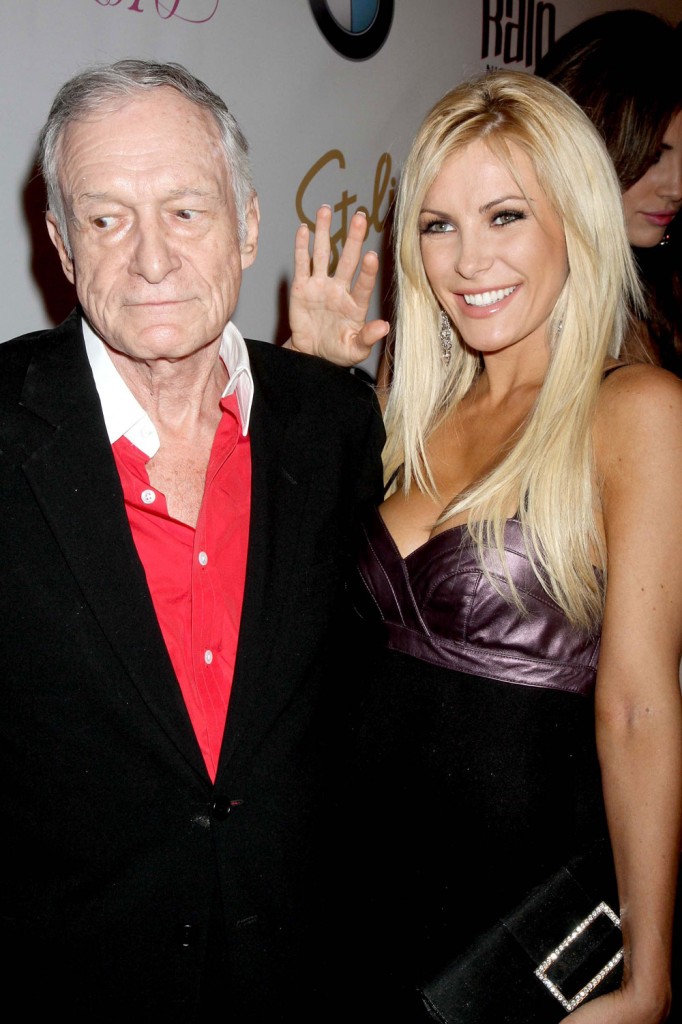 Photo credit: WENN and Fame