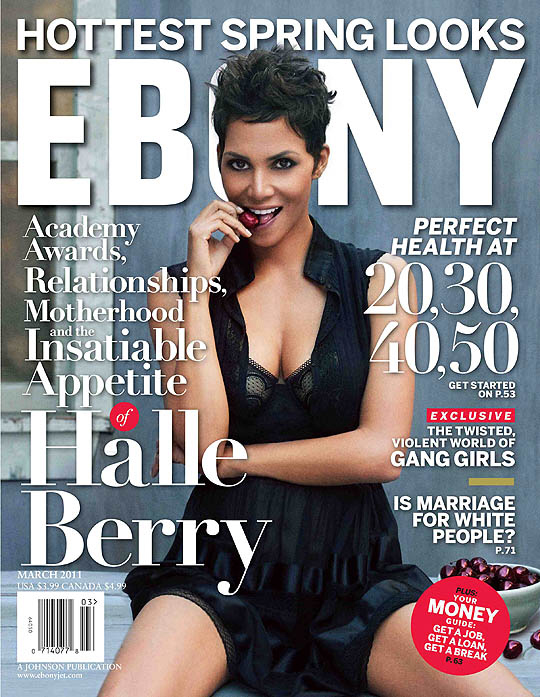 Halle Berry is the March cover lady for Ebony Magazine, in what I'm assuming was a photo shoot and interview done before the current custody battle exploded. That being said, Halle does make reference to a few things that have come up in the back-and-forth in the media, notably that Halle considers her mixed race daughter black. She tells the magazine:
"I feel like she's black. I'm black and I'm her mother and I believe in the one-drop theory. I'm not going to put a label on it. I had to decide for myself and that's what she's going to have to decide – how she identifies herself in the world. And I think, largely, that will be based on how the world identifies her. That's how I identified myself. But I feel like she's black."
[From Ebony via In the Basement]
Eh. I know a lot of you are going to fight about it, and that's okay, I guess. I'm mixed race – I'm half-white, half-Indian – and I've always felt that mixed-race people can self-identify however they want. I identify myself as mixed race, at times feeling more Indian or Asian, and at times feeling more like a Southern white girl. It depends, but no matter what Halle says, Nahla will make the decision for herself as to how she identifies when she gets older. TMZ has another story claiming that Gabriel Aubry would "go nuts" if someone suggested that Nahla was black – according to sources, Gabriel "insists" that Nahla is white. I have to say, I think in this particular insistence, it's less about race and more about Halle attempting to negate Gabriel's biological contributions, you know? Gabe is white – when Halle insists that Nahla is black, it's like Halle is cutting Gabe out.
Here are more excerpts from Radar:
Halle Berry put aside her bitter custody battle with baby daddy, Gabriel Aubry, as she gushed about the wonders of motherhood in the March issue of EBONY Magazine, RadarOnline.com has learned.

"Being a mother is probably the most important thing in my life right now," Halle, 44, revealed in an interview with EBONY Editor-in-Chief Amy DuBois Barnett, when asked what motivates her to continually challenge herself in every aspect of her life.

"Career is important, but nothing really supersedes my roles as a mother. That's the most important thing I'm going to do in this life at this point," said the Monster's Ball actress.

Halle and Gabriel are currently embroiled in a heated custody battle over their two-and-a-half-year-old daughter, Nahla. As RadarOnline.com exclusively reported the relationship between the ex-couple has deteriorated so much over the past week that they are no longer even on speaking terms.

"If Gabriel needs to find out anything about Nahla he goes through the nanny now," a source told RadarOnline.com. "He and Halle are no longer speaking directly to each other.

"There were still talking, albeit limitedly, up until a week or so ago, but now – nothing."

The source added Gabriel is concerned that Halle will request that all his visits with their daughter be supervised after various reports have claimed that Aubrey used the 'N' word in describing Halle. One source close to Aubrey strongly denies that.

The March issue of EBONY Magazine will be released nationwide February 8.
[From Radar]
In the Ebony piece (which I'm now convinced will be one of Ebony's best-selling issues), Halle also talks about dating – specifically, dating white men: "Well, first thing I want to say is that I'm very connected to my community and I want black people to know that I haven't abandoned them because I've had a child with a man outside of my race and I'm dating someone now outside of my race who is Spanish and French…I have never been more clear about who I am as a black woman. The people I have dated sort of hold up a mirror to me and help me realize more of who I really am." Wait… what? So dating white dudes has made her even more "clear" about being black? Sure.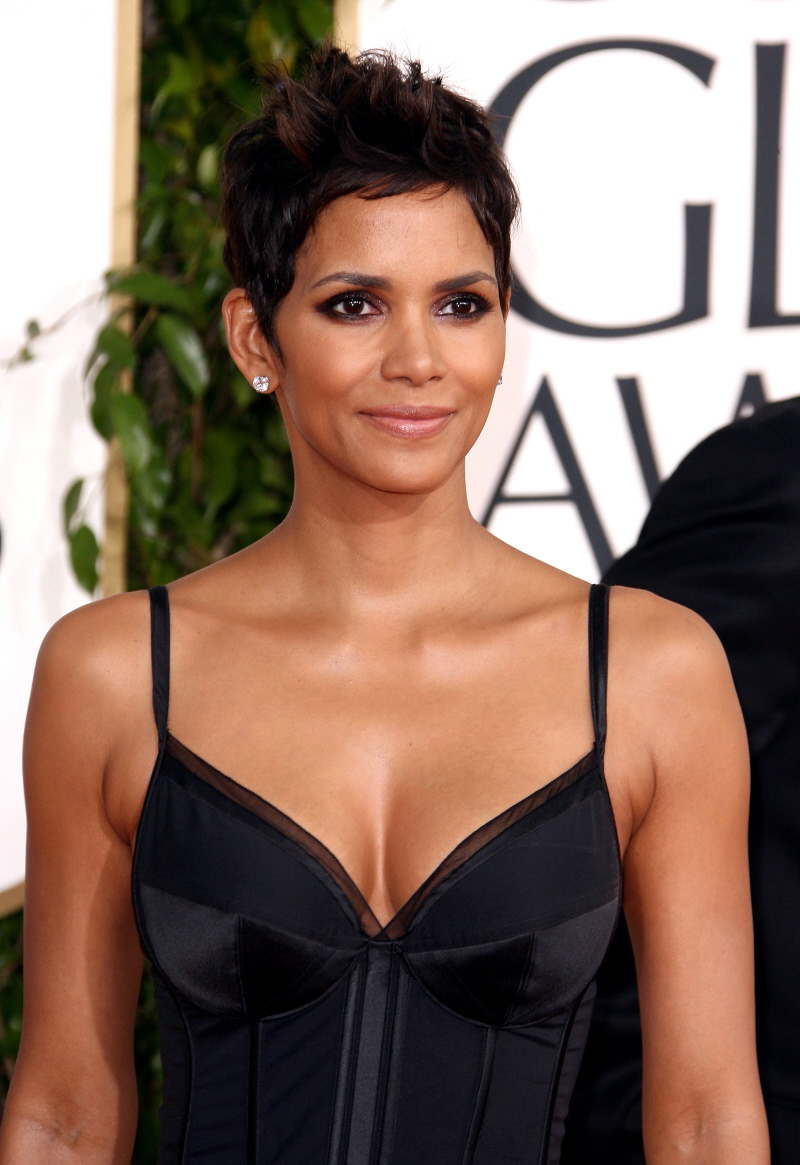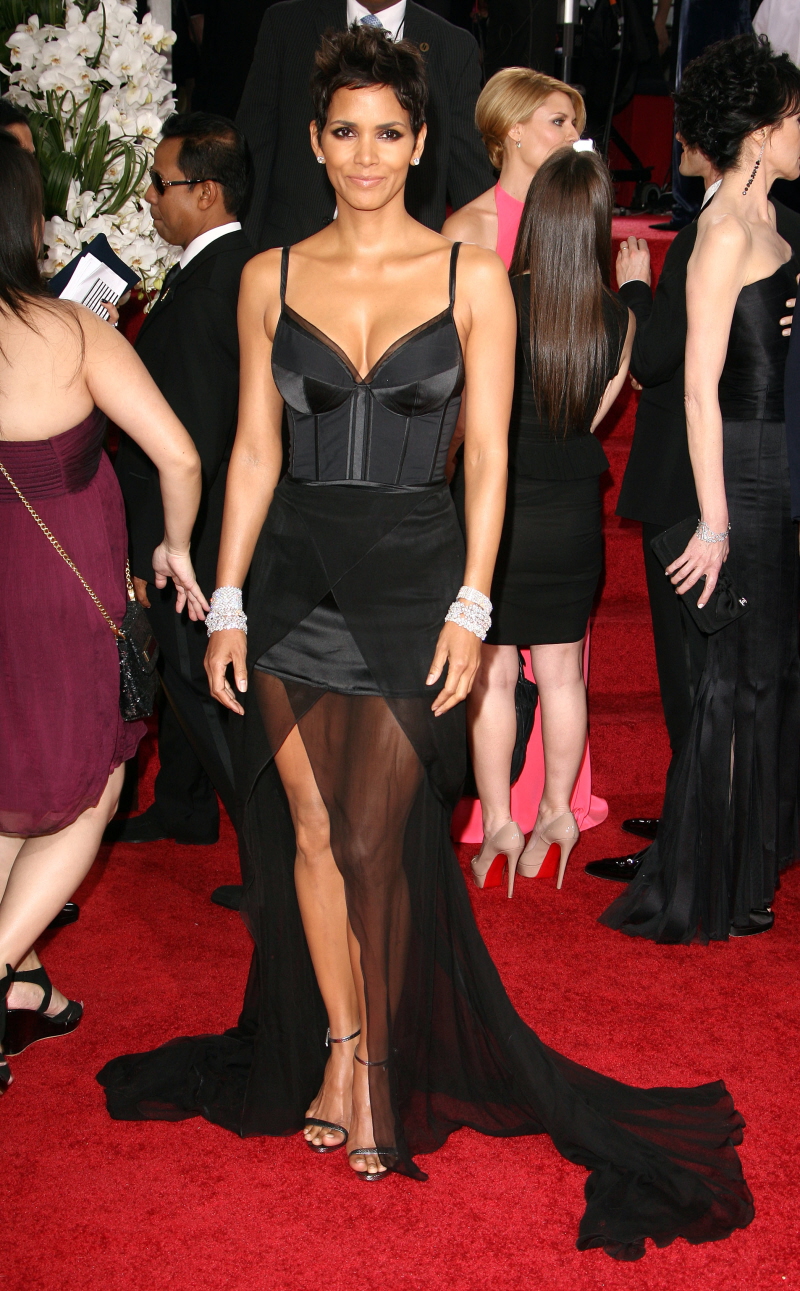 Ebony cover courtesy of I Am Flashdance, additional pics by Fame.