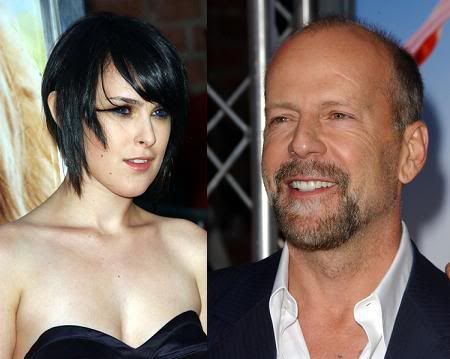 I like to blame my parents for as much as humanely possible. In fact once or twice a week I'll scan my old memory bank to see if there's anything new I can dredge up and stick on one of them. More often than not I can figure something out if I look really hard. Rumer Willis is one of those unfortunate girls that doesn't have to look all that hard to find a pretty big thing to be mad at her parents for. Specifically her dad Bruce.
Rumer is supposedly well-aware of the comments people make about her looks – specifically her "potato head." And while everything north of her neck does resemble a potato with a similarity that can only be described as extremely unfortunately, it's really the jaw that ruins everything. And that – as anyone can see – is entirely Bruce Willis' fault.
Rumer Willis blames her father Bruce for her angular jaw. The 20-year-old star – the daughter of 'Die Hard 4.0′ star Bruce and his ex-wife Demi Moore – can't stand her unusually large chin, and thinks she inherited it from her dad.

She said: "People tell me all the time that I look my mom. I see the resemblance, sometimes. There was a picture in a magazine about look-a-like mothers and daughters and I saw that I looked exactly like her – which is great.

"I hate my jaw. I don't know if it's my dad's – I think I'm more like my mother, my littlest sister looks exactly like my dad and my middle sister is a mixture of the two."
[From Female First]
Um, kiddo you look exactly like your dad. You may have your mom's coloring – which is what people tend to notice and comment upon first. But you couldn't look more like Bruce if you shaved your head. And it isn't just the chin, it's the eyes too. They shape is debatable, but they're way too small for her overall head size, and that seems to come from Bruce too.
The funny thing is that all those features could come together to look so incredibly hot on one gender, yet look so atrocious on the other. Lots of kids look more like their opposite gendered parent – though most of us look like a mix of the two. But I think the key is that you look like a "your gendered" version of that parent. Your dad's nose gets feminized or your mom's eyes become a little more masculine. When nothing changes and you're a carbon copy except for your genitalia… it's just not going to look good.
Header of Rumer and Bruce at the House Bunny premiere on August 20th. Images thanks to PR Photos. Here are some pictures of Rumer from June. I will point out that she's not doing herself by wearing that short, pixie haircut. It's cute on some girls but in her case only draws even more attention to her jaw. These pictures show how much better she looks with a softer haircut. Images thanks to Fame.