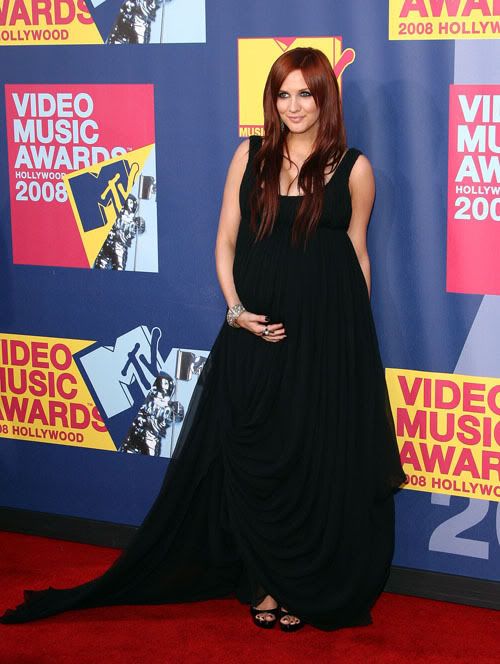 Outlets are buzzing that bland emo poster couple Pete Wentz and Ashlee Simpson are expecting twins after a friend of Pete's spilled the beans in an interview. It could have been a joke or the guy may not know Pete as well as people think. It's possible he was basing the twins story on a rumor that came out earlier in the year when Pete didn't want to know the sex of the baby and instead referred to it as "them." Pete and Ashlee's rep says they're just having one baby, so I guess that's what we should believe:
Pete's buddy, hip-hop artist Tyga, says that the parents-to-be are expecting not one, but two bundles of joy.

"They're having twins," Tyga said in an exclusive interview yesterday at the House of Hype's pre-VMA barbeque. "They're really happy."

Either Tyga spilled the beans or he's repeating an internet rumor that Pete started earlier this summer…

In June, Pete sent the internet into a tizzy when he referred to his and Ashlee's unborn baby as "them" during an Arizona radio interview. He quickly denied they were having twins, explaining to blogger Perez Hilton that he was just trying to be vague about the pregnancy.

A rep for the couple insists only one baby is on the way. "It is not true," the rep said of Tyga's twins report.

Pete, 29, and Ashlee, 23, were married on May 17 at her parents' L.A.-area home. Eleven days later the young rockers announced that Ashlee was preggers.
[From E! Online via News.Yahoo.com]
There will be some mild interest in Pete and Ashlee's baby, but hardly as much as twins would garner. So many celebrities are having babies that the only way to get much lasting publicity out of giving birth is to have multiples. It's doubtful they will be having more than one given the origins of the story and the fact that they're not likely to have sought fertility treatment which would have upped their chances. Ashlee is 23 and Pete is 29.
Ashlee is getting pretty big, but her baby is due in less than two months, reportedly around Halloween. If she does have twins there must be fertility drugs in the water.
Update: Pete Wentz denies that the couple is expecting twins, and told US Magazine "It's going to be a big disappointment when it's only one!"
Photo Credit: Juan Rico/Fame Pictures