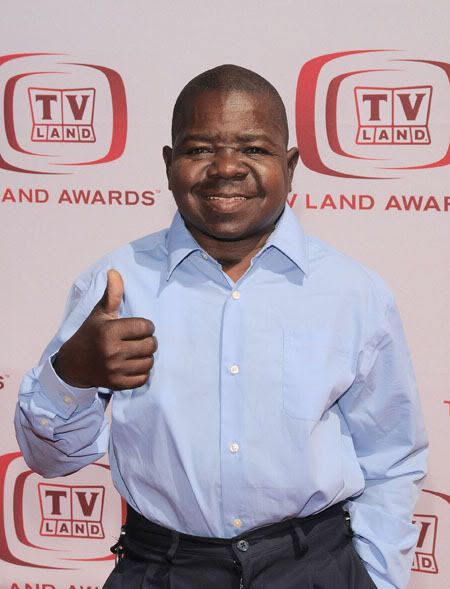 Pint-sized washed up former child actor Gary Coleman, 40, has only made press lately for his personal problems. Last August Coleman married a 22 year-old extra he met on the set of one of his films and went on television earlier this year to detail the fact that their relationship was rocky and they hadn't even slept together after six months. His new wife admitted that Coleman is volatile and that they're often fighting late into night, with Coleman yelling and throwing stuff when he doesn't get his way. The two even went on Divorce Court in May, but just to get some cash in exchange for airing their dirty laundry and advice from the judge, not to divorce.
This latest news that Coleman got into an altercation with a guy in a bowling alley parking lot isn't that surprising considering his temper. Supposedly the guy wanted to take a a camera phone photo of Coleman, he refused, and either accidentally or deliberately hit the guy with his car depending on which version of the story you believe. We would probably hear more stories about Coleman getting in fights with fans if he actually had any.
It was closing time at the Payson bowling alley where Coleman is a regular. His friend and bodyguard, who does not want to be identified, says he, Coleman, and Coleman's wife were just finishing their game when 24-year-old Colt Rushton came up to them and asked to take a photo with his cell phone and became very aggressive about it when Coleman said no. "He asked the kid not to take pictures. Why can't he be an adult and respect his [Coleman's] privacy," said his bodyguard. The bodyguard, we'll call "Fred," says the harassment continued outside as Coleman and his wife tried to leave. "This kid would not back off—he would not back off."

Police say Coleman's truck struck Rushton and hit a car that had pulled up behind Coleman's truck. Fred says Rushton ran around the actor's pickup as Coleman was backing out. "The kid was way careless. He was reckless. Who runs out on somebody that's turning?"

Rushton tells ABC4 a different account of what happened. He says Coleman's wife took his cell phone, that Coleman threw several punches at him before getting behind the wheel of his truck. Rushton says he was trying to get his cell phone from Coleman when he put his truck in gear and struck Rushton knocking him to the ground.

"He did not intentionally hit this kid," said Fred, "He [Coleman] was just trying to get out of here." Payson Police say a County Deputy witnessed the scuffle and intervened. "He opened the door and pulled Gary out," said Fred. Fred says the truck was still in gear when the deputy pulled Coleman out. It was heading toward Rushton who was still on the ground. Fred says he hopped in and put on the brakes.

Police say no one has been arrested or cited and say there's some indication alcohol was a factor. Fred says it shows just how far some people will go to harass a celebrity. "They're just like you and me. They want to be able to go out and do things and enjoy life." Rushton claims his cell phone was taken by the Colemans and given back to him by investigators with all his stored information deleted. The Payson Police say it a case still under investigation.
The most surprising part of all this is that Coleman supposedly has a bodyguard. Whatever happened, we're not likely to hear much more about it as no one was arrested and it doesn't sound like anyone was hurt. At least Coleman got some much-needed press, even if it was inevitably negative. Coleman's last movie role, according to IMDB, was in 2007 playing a pizza boy in the film A Christmas Too Many, starring Mickey Rooney and Ruta Lee. He has no roles lined up, and it's not like the reality TV people are going to be knocking on his door again. There are some things the public just doesn't want to know.
Gary Coleman is shown at the TV Land Awards on 6/8/08. Credit: Juan Rico/Fame Pictures