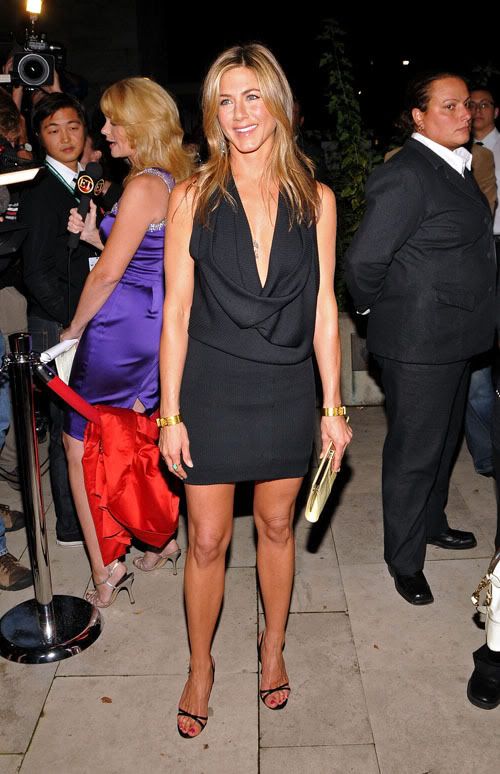 Jennifer Aniston is at the Toronto Film Festival to promote her movie Management, also starring Steve Zahn and Woody Harrelson. In interviews at the festival she spoke highly of the cast on 30 Rock, where she just shot a cameo as a crazed stalker. She called her stint on the NBC show a lot of fun, saying she "just had the time of my life" and that "the cast welcomed me in with open arms." OK! Magazine spoke with the director of Management, who took time out to defend Aniston against the attacks in the press. It's possible they specifically asked him if she was bitter at all, and he asserted that she was not bitter or mean, but hinted that it would be justified if she got a lot angrier than she does about all the negative stories about her.
Meanwhile, Jen's director in Management, Stephen Belber, took his time out to gush to OK! about how great it was to work with the actress.

"She lives with her heart on her sleeves, she lives fully and she's not afraid to hide it," explained Stephen. "She doesn't flaunt it in any sense. People follow her life, and she's not a jerk. She could be a mean, bitter person as a result of all the press she gets – or the hounding — she gets, and she just never, ever shows a bitterness at all. That alone is huge, I think."
[From OK! Magazine]
Aniston was rocking a low-cut cowl neck dress at the festival last night accented by gold jewelry. The Daily Mail reports that "Rumours are circulating today that the former Friends star had a business dinner with her ex-husband, Brad Pitt, last night at the festival," but they don't offer much evidence for it and there aren't any photos. That's the first and only place I've read that they had dinner together, and I'll believe it when it's in a more reputable source.
Aniston looks pretty good and classy, but I'd really like to see her in some kind of print or a color other than a dark solid. She's got her look and she works it her way.