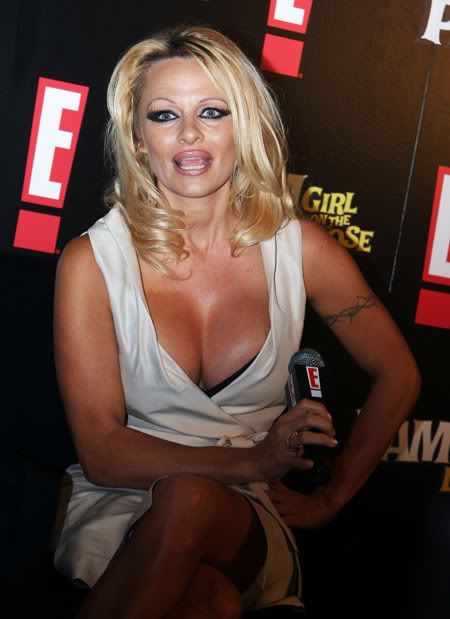 Pamela Anderson knows that her face just isn't holding up, in part because of the results of aging, but mainly due to her maudlin efforts to preserve it, so she's doing what she knows best – distracting us with her still-great body. At 41, the vegetarian and former Baywatch babe is still hot from the neck down and she knows it. The rest of her could be consistently lovely with the help of a competent makeup artist, but she refuses to vary her overly-penciled look. It's hardly noticeable with the rest of her body on display.
Anderson stripped down to a bikini and jumped around for a short while before a commercial break on Ellen DeGeneres' talk show in a segment to air today. Anderson is promoting her E! reality show Pam: Girl On The Loose, which still has about three episodes left out of 8 this season. It has received mostly negative reviews.
As for the rumors that she's dating Michael Jackson, Anderson said he's just interested in featuring her in a video. I guess we know that Jackson is aiming for a comeback of sorts, then:
"He just wants me to be in a video," she said on The Ellen DeGeneres Show (airing Wednesday) when asked about their recent meeting. "My life is so interesting. My life is a blur."

"So seriously, have you been hanging out with him?" DeGeneres asked.

"It happens … skin cancer and Vicodin," she replied cryptically. "I don't know … I have a lot of interesting friends."

She added that she is living with ex Tommy Lee again, but when DeGeneres asked if she was "getting any," she sighed, "no."

While on the show, Anderson took time out to congratulate DeGeneres on her recent wedding to Portia de Rossi.

"I hope it works," she told her. "We lost another soldier. I'm impressed, and you guys are a gorgeous couple."

When DeGeneres told her they'd be married exactly 27 days, Anderson (who famously split from Rick Salomon after two months) replied, "27 days is about halfway over for me."
[From US Magazine]
Anderson knows who she is and what she does best. The public, however, is not as interested as it used to be.
Thanks to E! Online for this video clip.
Pamela Anderson is shown promoting her show in Australia on 8/28/08. Credit: Fame Pictures