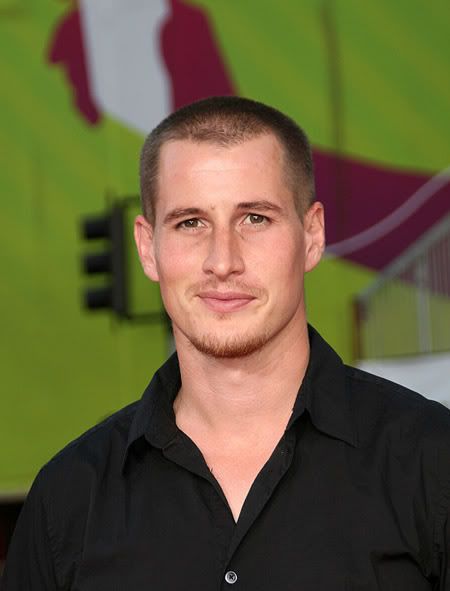 Brendan Fehr is not really a household name, except maybe among sci-fi fangirls who like bad boy human/alien hybrids with tousled hair. Since his turn as the brooding Michael Guerin in Roswell opposite pre-Grey's Katherine Heigl, Brendan has bounced around lesser known movies and did a stint as a lab geek on CSI: Miami, which must be the actor's equivalent of working at Burger King. Hey, we all have to pay the bills.
He returns to TV in the miniseries Samurai Girl, minus the hair, which began airing this weekend on ABC Family.
In real life, the 30-year-old actor is married to Jennifer Rowley. They have a five-month-old daughter named James Olivia.
In Samurai Girl, Brendan plays Jake Stanton, the love interest of the title character, played by Jamie Chung. Jake is also a master ninja and former assassin.
Brendan's take on the show is a bit convoluted and reveals his insecurities about his performance:
I hate, well, not hate but I always want to be honest with myself and fans and people who have no self awareness or some sort of legimate barometer of sorts with regards to their body of work and talent really bother me. Confidence is great but it still has to be married to reality. At any rate, the "talent" caught myself thinking, "Had I just got caught up in it all and misjudged? Had I just spent too much time with these 2 hours or…? This is exciting right? I mean this is still as good as I thought it was? Cause I thought it was really good. And now? I'm right, right? It's good. Anyone?" Now, this could be very bad for the "talent" if you were to quit reading here and then tell all your friends and (ABC) family that it's not that good and that you heard it from the "talent" but just wait! It's a story with a happy ending! Once hour 3 began and thus inevitably ended, it dawned on the "talent" that this was indeed as good as I, whoops the "talent" thought it was!
[From Brendan Fehr's official site]
I think that means he likes it.
Roswell was more of a cult hit, but Brendan did earn heart-throb status, although nothing along the lines of The Jonas Brothers.
The one time I was literally mobbed was at Disneyland. There were probably 200 16-year-old girls.
[People, print edition, September 8, 2008]
He also tells People he is a hands-on dad to James, "faster than my wife at changing diapers."
So why give his daughter a traditionally male name?
It was inspired by my favorite musician, James Hetfield of Metallica.
[People, print edition, September 8, 2008]
Someday James will be thankful her dad's favorite singer wasn't Englebert Humperdink.
Brendan will soon begin filming Fort McCoy in Wisconsin, opposite Eric Stoltz.
Brendan Fehr is shown at the X Files 'I want to Believe' premiere in Hollywood on 7/23/08. Credit: WENN/Fayes Vision