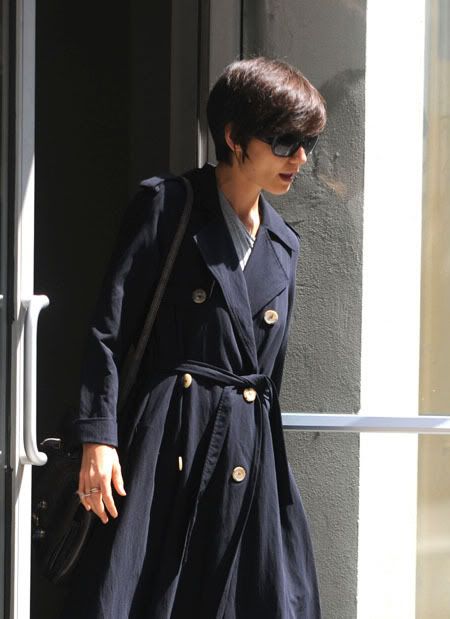 Katie Holmes is still rehearsing for her Broadway debut in New York City, while husband Tom Cruise is working in L.A. Katie has been photographed walking the NY streets (in pegged jeans!) looking rather lonely for weeks. So it was no surprise that when ex-boyfriend, "Dawson's Creek" co-star Joshua Jackson showed up for a visit, she was very glad to see him. Of course, the tabloids are making it look like there was some romance going on. Joey + Pacey 4Ever!
After her rehearsal for her new Broadway play All My Sons, Katie Holmes was delighted to receive a visit from a handsome and familiar man – her ex-boyfriend Joshua Jackson. "Josh arrived at the theater with flowers," says a friend. "Katie was so happy to see him. They had coffee together at the back of the theater."

Josh, 30, who called Katie several times before their August 27 reunion, is living in New York with his girlfriend, actress Diane Kruger, 32. Yet he clearly still has a soft spot for Katie, 29. When asked if he plans on seeing her in her Broadway debut, Josh tells In Touch: "Of course, of course!"

Though their romance ended years ago, Katie, who once called Josh her "first true love," still has warm feelings for him, too. "We did date," she has said. "We fell in love. And I love him now, and we have a friendship."

However, Josh and Katie's friendship has faded in recent years. When Katie started dating her husband in 2005, she "gradually stopped returning his phone calls," the pal shares. And Josh wasn't invited to her wedding. "The invitation must have been lost in the mail," he joked at the time.

But Katie always treasured her first love. "She has missed Josh so much as a friend," says a pal. "He's such a sweet guy. She hugged him several times."
[From In Touch print version, Sept. 22, 2008]
Ooh! They had coffee together! They hugged! Several times! They MUST be doing it. I love how melodramatic In Touch is with this story of two old friends, in the same city, meeting to catch up and wish each other well. It's as if Katie isn't capable of being around a man unless she's in love with him.
The article goes on to say that Katie is keeping the meeting a secret from her husband Tom Cruise. As if Tom doesn't have ScientoloSpies documenting her every move.
But as harmless as their renewed friendship is, her confidant says that Katie has hesitated about telling her husband about Josh, who she made plans to meet up with again during her stay in New York.

"She doesn't see why she should tell Tom at this point," explains the friend. "She's keeping it under wraps because she would be heartbroken if Tom tried to stop her from seeing Josh."
Oh, the drama! Poor, tortured Katie! It's like "Dawson's Creek" all over again. In Touch is really laying on thick in this article- there's even a sidebar with a comparison of Joshua and Tom, with a handful of silly reasons why Katie might be more interested in Josh- he's taller! The romance between Katie and Josh couldn't have been that big a deal, because I never heard anything about it. I always thought Katie's first serious boyfriend was actor Chris Klein. And even if he was her "first true love," that doesn't mean they can't have coffee together without it meaning anything more than that. Katie has been looking rather lonely in New York. Even with Suri there to keep her company, there's something to be said for hanging around with other grown-ups. It's nice that Josh reached out to her to show her some support.
Katie Holmes is shown on 8/24/08 and 8/30/08. Joshua Jackson and his lovely girlfriend Diane Kruger are shown on 5/22/08 at Cannes. Older photo of Holmes and Jackson below via Laney Gossip. Other pictures credit: Fame.