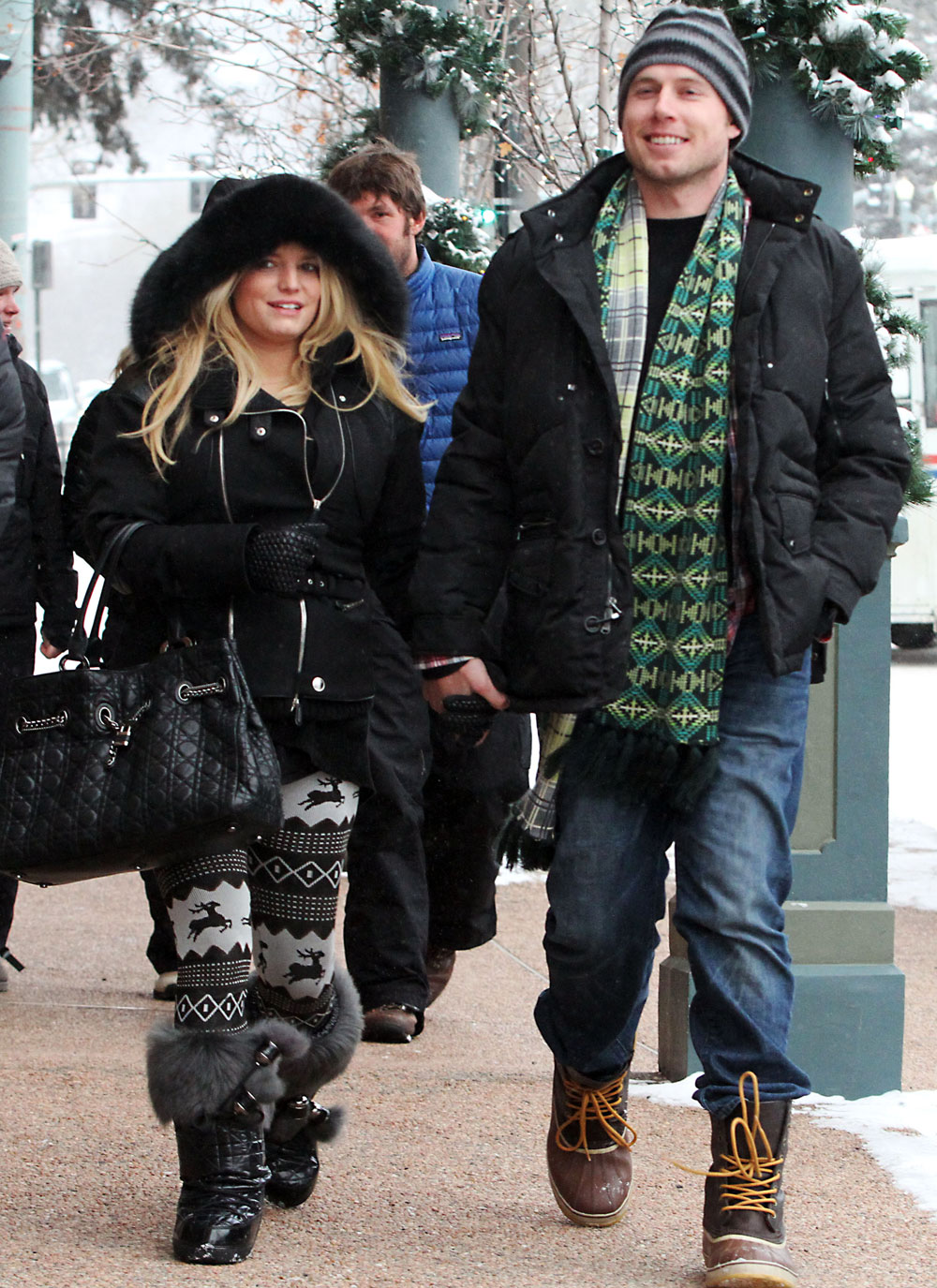 Last week the National Enquirer reported that Jessica Simpson was trying to lose weight for her wedding and that her fiance Eric Johnson was telling her to drop some pounds or the wedding was off. I said that it was likely that Simpson was trying to lose weight for her wedding because that's what most women do, but that I doubted that Eric had issued an ultimatum or was particularly concerned with Jessica's weight. He looks like he's gained a few since hooking up with Jessica anyway.
In this week's US Weekly, fraud celebrity trainer Tracy Anderson claims that she's training Jessica and that "this is a big, forever lifestyle shift" for the accidental fashion mogul. Anderson recommends diets that are around the 800 calorie mark a day, well below the 1200 minimum calories recommended by nutritionists. Anderson has no certification or background in nutrition. To be fair, this article doesn't say that Anderson is giving Simpson diet advice, it's just implied. Simpson did go on a "cleanse" before starting the program.
Jessica Simpson, 30, has enlisted the help of celeb trainer Tracy Anders, who's customized a routine that includes dance aerobics, ab work and strength training. After a few weeks of 75-minute, four-day-a-week workouts, "she's seeing results," says a pal. "She really loves it. She thinks it's so much fun."

The 5-foot-3 margarita and guacamole-loving star even went on a weeklong cleanse to kick start the regime and intends to cut back on fatty favorites for good. "She is in the mind set that this is a big, forever lifestyle shift," Anderson tells US, adding that she plans to ramp up Simpson's workouts. "Jessica has a killer body, but when she goes up to two hours, six days a week, then you will really see her transform."
[From US Weekly, print edition, February 28, 2011]
What the hell is Jessica thinking? She used to work with Harley Pasternak, whose 5-Factor Diet and 5-Factor Fitness programs are actually sensible and easy to follow. (From what I've read, I haven't done them.) She doesn't need to get caught up with Tracy's starvation and overexercise program. Everyone else is doing it, so I guess she's on the bandwagon now. Good luck keeping it up once the big event is over.
Jessica and Eric are shown on 12/31/10. Credit: Fame. Tracy Anderson is shown showing off her bolt ons on 4/20/09. Credit: PRPhotos