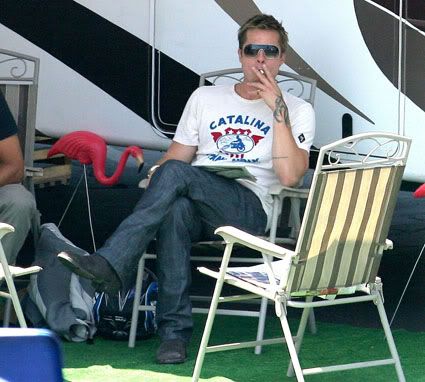 Why does Brad Pitt smoke? Is he addicted and/or does he think it looks cool? He could eat his boogers and it would look cool, but smoking is just a nasty habit. It's not like he's succumbing to peer pressure on set since he's hanging with Clooney outside their trailers and Clooney's got a mouthful of gum.
I live in Switzerland, where everything is clean and healthy except for the damn cigarettes. It's not taboo to smoke here like it is in America. There's often no non-smoking section in restaurants, and smoking in public is not frowned upon. Unfortunately that's changed my opinion of smoking a bit, although I still hate to be around the smoke. Celebrities don't set a good example by smoking, but they're just hanging out and don't intend to be photographed so who am I to judge?
The latest non-news on the Jolie-Pitt relationship claims that Angelina wants to get married at this point, and not in some freaky non-binding ceremony, but for real, while Brad is holding off. They're also supposedly fighting a lot, with people saying that Angelina's crazy need to escape is getting on Brad's nerves.
Now Life and Style is reporting that Brad's reaching out to his ex Jennifer Aniston, which enrages Angelina:
Now a report from Life & Style Weekly proclaims Angelina Jolie's frustration and Brad Pitt's desire to reach out to his ex-wife Jennifer Aniston.
According to L&S Brad "misses Jen and misses how Jen made him feel." The mag's insider also reportedly said that "Jen gave him confidence and brought out the best in him."
Recent reports suggest that Pitt has indicated a desire to meet with his ex and apologize for all the heartbreak.
That sounds like bullshit. People really want to know the dirt on the world's most famous beautiful couple, and it's quite easily manufactured for our consumption. Then again, I didn't believe they were going to Africa until they actually did it, either.
Here are pictures of Brad on the "Oceans 13″ set, courtesy of Just Jared.