The fact that most people probably answer Brad Pitt and Angelina Jolie over Tom Cruise and Katie Holmes has Tom increasingly insecure and is causing a "secret Hollywood feud," according to the cover story in the September 15 issue of Life & Style.
Brad and Angie are on top of the world right now. Despite rumors of tension in their relationship, they recently founded a health clinic in Ethiopia named after their daughter Zahara. Brad's film Burn After Reading is at the top of the American box office, and Angie is getting Oscar buzz for her role in The Changeling, which opens October 31. The two welcomed twins Knox and Vivienne to their international brood a little over two months ago. While Angie has been laying low lately, Brad has been wearing snazzy suits to film festivals all over the world and bantering adorably with good friend George Clooney.
Tom and Katie – not so much. Tom got good buzz for Tropic Thunder, but his film Valkyrie has been pushed back repeatedly. His long-time producing partner Paula Wagner resigned from United Artists, and an action role he was up for in Edwin A. Salt is now being played by none other than Angelina Jolie. Katie is branching out her acting career, doing All My Sons on Broadway, but the press is much more interested in how she wears her jeans to rehearsal every day. Ticket sales for the show are now said to be coming along nicely however despite rumors late last month that sales were sluggish.
Reps for Tom and Katie deny the feud, but a Cruise family insider disagrees:
Brad's and Angie's careers have taken off….It seems as though Tom's always trying to compete with Brad, and that's a difficult job.
[From Life & Style, print edition, September 15, 2008]
Tom and Brad became friends making Interview with the Vampire in 1994. Tom took a big risk accepting that role to almost universal derision, and silenced most critics, including myself, by doing a good job with the homoerotic tension between LeStat and Louis. Plus, Brad looked mega-hot with all that long hair. The film helped solidify Tom as a superstar, and propelled Brad into super-stardom as well.
The two stayed distant friends over the years, but Tom is now confused why Brad and Angie are so much more popular than he and Katie. "Tom doesn't get why he and Katie pose for photos and sign autographs for fans, but Brad and Angie don't have to do anything to get attention," says an insider.
Tom is an incredibly hard worker, and he feels Brad has coasted to superstardom. While Tom is a tireless perfectionist on movie sets and always works the room at parties, "Brad lives every day like it's the weekend."
While Katie constantly plays hostess and bakes cupcakes for friends and co-workers, Angelina doesn't even make the attempt. The Cruise insider says, "Angelina doesn't even have friends….She rarely extends herself."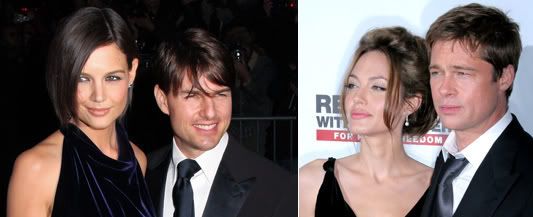 Tom doesn't understand why, with both of them in their 40s with beautiful kids and pretty, younger partners, Brad's leading this wonderful life and he's still working so hard.
It helps that Brad isn't batshit crazy.
"All the negative press Tom gets over Scientology and the rumors about how his relationship with Katie was fake have left him with the sense that he's not, you know, as beloved anymore," says an insider close to the couple. "And Brad has these causes — save the children, rebuild New Orleans, donate to charity — while Angelina's practically St. Angelina these days. How do you compete with that?"
[From Life & Style, print edition, September 15, 2008]
Brad has no interest in competing with Tom. At one time he may have been engaged in some friendly competition, "But since becoming a father, Brad's been a changed man. At this point, he's all about family."
Tom's Scientology is also off-putting to Brad and Angie and they're not interested in spending any time with Tom and Katie.
"They have strong beliefs about what they want to teach their kids," notes Brad's friend. "And they've each told friends that Scientology seems like a 'very restrictive belief system.'"
Tom may have won one minor battle in this ego war. Life & Style reports Brad wanted to be the first to own the new Ducati Desmosedici RR motorcycle, which costs $72,500 and can go up to 200 mph, but Tom was moved to the top of the list, according to a Ducati rep, and got the bike first. Brad's rep says he never wanted one in the first place. Sure he didn't.