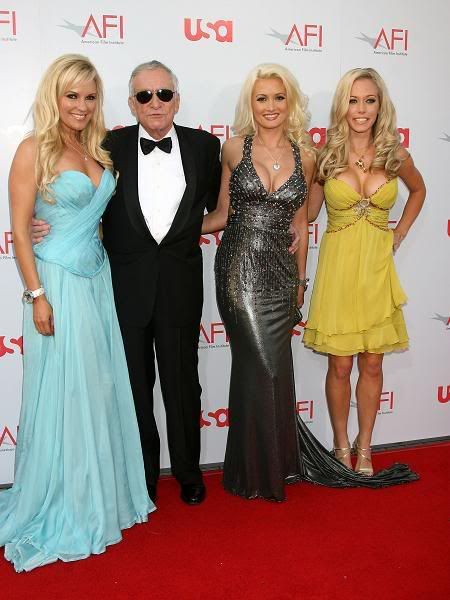 Hugh Hefner has decided that the one thing The Girls Next Door really needs is to make the show more complicated. Not that it's exactly hard to follow now… but should it be? Apparently Hefner thinks so, because he says all three of his current girlfriends will probably be getting spinoff shows that will be somehow connected and interwoven into the main show. Because that's what The Girls Next Door was really missing. More random confusion.
Rumors have been circulating that The Girls Next Door star Kendra Wilkinson is getting a spinoff here at E! because she's moving out of the Playboy Mansion, but Hugh Hefner has a surprise for you.

While he won't confirm anything about [Kendra ] Wilkinson, Hefner says, "I think all three girls are likely to get spinoffs. I think they will be interconnected to the main show, and we will all appear on both."

…And while we're on the subject of rumors, Hefner also shoots down the recent one about Madison supposedly leaving him for Mindfreak illusionist Criss Angel. But being the businessman that he is, Hefner really doesn't mind what seems like around-the-clock gossip. "All the rumors are only going to give us more ratings," he said.

He does promise that if anything changes between him and any of the girls "all of that will be on the show, because this show, unlike most, really is a reality show. It deals with our lives and wherever that takes us."
[From E! News]
What's sad is that I actually don't think Hef's last line is PR bullshit. It probably is the most accurate reality show out there. Simply because I really do believe the Playboy bunnies' lifestyles are about as random and empty and yet camera-friendly as they appear on the show. So they probably don't have to do much to artificially heighten the drama.
And now, thank goodness, we may have three times the empty-headed girls. All interwoven. I'm already confused. But watching, nonetheless.
Here's Hef and the girls at the Playboy Jazz Festival in Los Angeles on June 14th. Header of (L to R) Bridget Marquardt, Hugh Hefner, Holly Madison, and Kendra Wilkinson at AFI's Lifetime achievement award honoring Warren Beatty on June 12th. Images thanks to WENN.