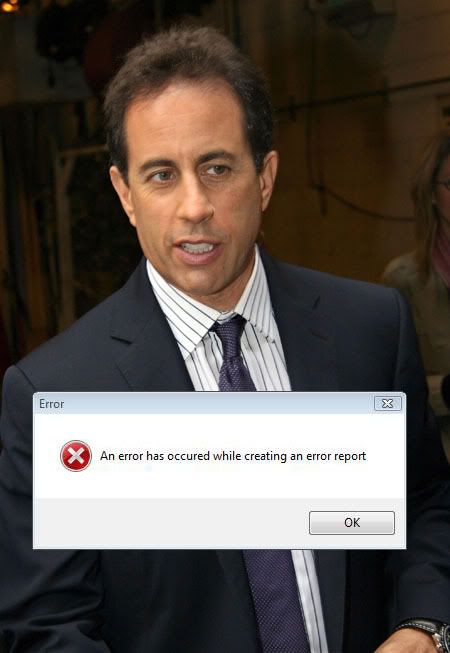 The pointless and ire-inducing Microsoft ads featuring Jerry Seinfeld and billionaire founder Bill Gates reminding you how much of your time is wasted using the all too fallible operating system have been withdrawn from the airwaves. The ads featured the two in everyday situations that were meant to show that Microsoft is hip and approachable but just managed to come off as lame.
It is widely believed that the ads, which cost Microsoft a reported $30 million, including Seinfeld's $10 fee, were pulled due to the overwhelmingly negative reception. Microsoft says it was the plan all along to take the ads off and move into the next phase. Just like their upgrades that pop up, install automatically and force you to reboot, often leaving specific programs and sometimes your entire computer inoperable:
Microsoft is preparing to pull its TV ads featuring comedian Jerry Seinfeld and Microsoft's co-founder and chairman Bill Gates.

Microsoft spokesman Frank Shaw said the end of the Seinfeld ads was planned well in advance, and wasn't coming in response to any criticism of the spots. "All along we said we were having a teaser campaign," he said. "We're getting ready to start the second phase. This was the plan all along."

The news, broken this afternoon by Valleywag, comes just days after Microsoft aired the latest in the series of commercials, produced by Crispin Porter + Bogusky, featuring the two men in comic situations. The ads have been largely panned as a strained effort on the software giant's part to not only promote Windows but also portray Microsoft as cool and in touch with regular consumers — basically, to counter the stodgy image painted in Apple's "I'm a Mac, I'm a PC" ads.

Seinfeld, who reportedly received $10 million for his efforts, was a superstar in the 1990s with his hit show. Using him now, in 2008, only added to Microsoft's image as being behind the times, critics said.
[LA Times via Huffington Post]

Note by JayBird: Nice try PR guys. I don't think anyone in their right mind would believe Microsoft planned on blowing that kind of money on some temporary flash ad campaign. I actually think Bill Gates is significantly better in the commercials than Seinfeld. Especially considering each of their backgrounds. And the fact that Windows Defender has gone out of its way to ruin the better part of my week doesn't incline me to be charitable towards Microsoft right now. They really blew it on this one.