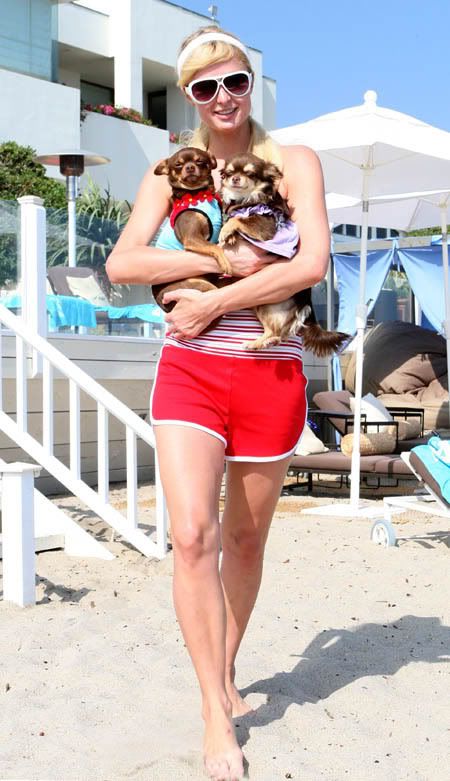 Paris Hilton with two of her dogs on 7/20/07. Credit: Fame
Yesterday we ran a story that wild coyotes had run off with two of Paris' at least 17 dogs. The story originated with paparazzi photo agency X17, and it's possible that it filtered down to one of their photographers in the "telephone game" type way that rumors get twisted and turned around when they're repeated. Maybe Paris was upset over something else, someone wondered if one of her many dogs had been hurt, it got misunderstood and repeated and the story turned into a coyote killing two of the pups. Or maybe they just made it up on a slow news day.
Paris' rep told People that all the dogs are living the high life in their little doggie mansion, waiting to be picked by Paris for an outing like so many neglected pairs of shoes:
Contrary to Internet reports, two of Paris Hilton's dogs were not eaten by a coyote. They're not only alive, but living better than many humans.

"They were at Paris's house Wednesday in her recording studio, and all the dogs were playing and looked as healthy and happy as can be," a rep for the heiress tells PEOPLE. "Paris even had a doggie mansion built for them and it is very secured. "

Her rep was responding to reports that Hilton, 27, has been crying non-stop due to the dogs' deaths.
[From People]
Why Paris has 17 dogs: They keep having babies
Paris Hilton told Ellen Degeneres in February that she has 17 dogs. Ellen asked her why she has so many dogs, and she said "they keep having babies and I feel bad to give them away." Ellen said "Paris you have to spay and neuter your pets," and Paris answered "They all just got fixed." Ellen asked "All of them?" and she hesitated and said "Yes." Ellen called her out on the fib, saying "Paris you're lying," and she was forced to admit "two of them weren't [fixed]." It just takes two! Hopefully they're the same sex, not that Paris would know.