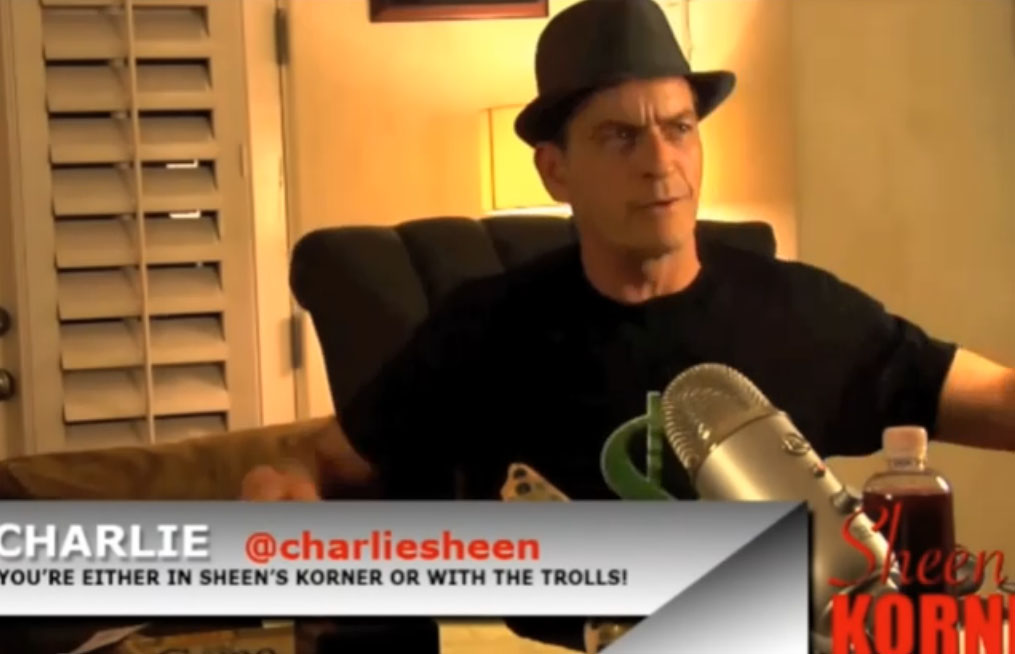 Do you guys want to keep reading stories about Charlie Sheen? There's at least a dozen to cover this morning, and this guy has become a media powerhouse. Is he crazy like a fox or just crazy? Somehow he's become what could be this year's most prevalent meme and it's barely March. He may have just overplayed his hand though, and we'll get to that in a moment.
First off, I had the chance to read People's cover story on Charlie. It's impressive how they use their typical analytic approach with a bunch of quotes from friends and family to try and normalize his behavior. Charlie is so far beyond your average "celebrity off the rails" story that it makes their coverage unintentionally hilarious. They also have a couple of new quotes from Charlie that need to be added to some of the many sites chronicling his winning words:
- Just one day I suddenly woke up with a new brain.
- I feel like my brain is working faster than my mouth can get the sh*t out.
That second quote pretty much sums up the madness that has been Charlie Sheen's media tour. Because he couldn't get the sh*t out fast enough by talking to every outlet that would have him (except Nancy Grace) he held a live UStream Webcast on Saturday night for over 50 minutes. He spouted a bunch of quotes that were essentially variations of other highly quotable ways he's described his superiority. I only watched the first couple of minutes, so I'll have to rely on others to give details.
Sheens Korner ran 50 minutes, and had the infamous star ramble on whatever he saw fit. That is what he's been doing all week, yet since he was the host of the webcast, no one could cut him off. Judging by the reactions during the night, the idea sounded better on paper.

In recent interviews, the most famous Charlie Sheen quotes had been repeated over and over, in lue of him saying much of anything new. That formula didn't change in the webcast, as he kept reusing old hits, and using "winning" most of all. In fact, he showed just how fixated on "winning" he was, since he introduced a tattoo of the word on his wrist.

The host tried to get out new catchphrases, like "You're either in Sheens Korner or with the trolls" "Gnarls Gnarlingest" "Winning News" and "Wish They Were Me Forever" However, just as much time was spent on rehashing old comments, and asking viewers to tell him their favorite lines on Twitter.

Yet the most telling of the Charlie Sheen quotes came late in the webcast, as he stated "We've just run out of material." Without knowing it, he may have hit the nail on the head in this whole saga, as his act has all but peaked by now.

At this point, his routine has become a comedy sketch, in which he just repeats his catchphrases. In fact, there may have been little difference between his webcast, and the Saturday Night Live "Duh, Winning" talk show parody that aired an hour later.
[From Associated Content]
And yet another interview with Sheen ran on Dateline NBC Friday Night. Here are some quotes from that, courtesy of Examiner:
- I'm tired of pretending I'm not a rock star from Mars
- I'm the picture of A.A.
- They're soft targets in cheap suits. (referring to executives from Two and a Half Men)
- I have zeal and focus and violent hatred. When you either love or hate, there's no middle and I hate.
- It's the most valuable sitcom in the history of television. I believe they're behaving from a place of ego and panic. On the battlefield or a ball field, that's what gets people killed.
- They left me twisting in the breeze and out in the cold.
- You can't process me with a normal brain.
It's true, you can't process Charlie with a normal brain.
In other neverending exhausting Charlie Sheen news:
- He broke up with one of the goddesses but got back together with her
- The other goddess got his signature tattooed on his foot
- Charlie got the word "winning" tattooed on his wrist
- He also got an Apocalypse Now inspired tattoo on his chest
- He's been begged to make any kind of appearance on The Walking Dead. (He's said in the past that he loves the show)
- He's going to Haiti to help out his friend Sean Penn with his charity work there. (Please let him stay there.)
- He's still trying to work out custody with Brooke Mueller, who remains a famewhore
- Denise Richards is trying to keep their daughters away from him
- He may be back on Two and A Half Men through some kind of deal with a consulting producer he likes. That could be just wishful thinking on Charlie's part. Money talks though, and as we learned from Charlie Sheen's ironic t-shirt, sometimes it talks way too much.
Here's a link to the Saturday Night Live skit on Charlie. I like how they combine all the celebrity scandals into one and there are some funny one liners. Overall it wasn't as funny as Charlie though.
And here's a segment of some of Charlie's show: