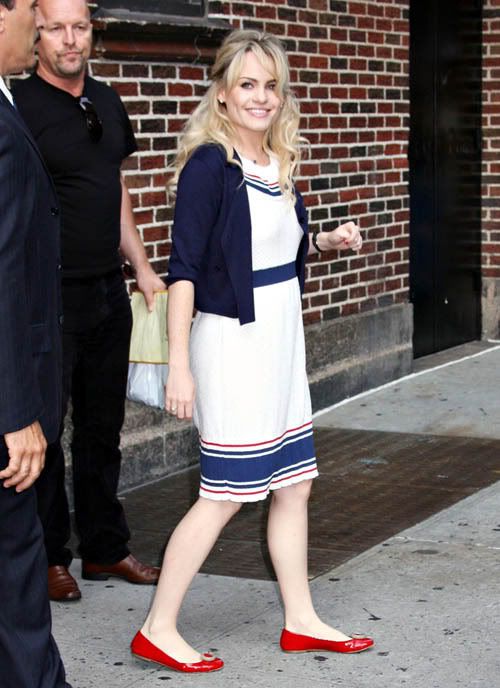 Welsh soul singer Duffy isn't sure she's ready for stardom.  Stardom is ready for her, though.  Duffy, who was the musical guest on Saturday Night Live last week, was just nominated for three MTV Europe Music Awards, tying Coldplay for the most nominations. 
It's happened pretty fast for the 24-year old, and she's afraid the pressure will lead to a breakdown.
The Mercy star, who grew up in a tiny town in Wales, admits she finds it hard to be under constant media scrutiny, and didn't expect having a successful career in the music industry would bring so many woes into her life – claiming she feels as if she has "sold her soul".

She says, "As a girl I thought I was superhuman… but I'm borderline on a breakdown.

"The scary thing is that this feels like the beginning. It would be easy to become a recluse… I have sold my soul."

And she admits the hardest part is dealing with flocks of fans in everyday situations.

She adds, "It can be scary when there are 15 lads on one side of a pub and a gang of girls on the other who all want a photo.

"I'm never calm anymore. There's a lot to it I didn't think of. It's not the physical stuff – it's mental."
[From Yahoo! UK News]
Those are pretty scary thoughts from someone so obviously poised to be in the spotlight for a long time.  She's got an amazing talent and deserves success, but sometimes, as Amy Winehouse has so sadly shown, sometimes success is more than even the most talented artist can handle.
Duffy's album Rockferry debuted at #1 on the UK charts and #4 in the US and has spurred the hits "Mercy," "Stepping Stone," and "Warwick Avenue."  Her MTV Europe Music Award nominations are for Best New Act, Best Album and Addictive Track for "Mercy."
Her voice and sound have been compared to Dusty Springfield, and along with Adele and Gabriella Cilmi, she's been called one of "The New Amys."  The genre is the same, but they're all very different, there's no new Amy Winehouse, but Duffy, Adele and Gabriella are definitely worth a listen if you like Amy. 
Duffy is shown outside the Late Show on 9/4/08. Credit: RAM/Fame Pictures. She is also shown outside Fashion Rocks on 9/5/08. Credit: PNP/WENN