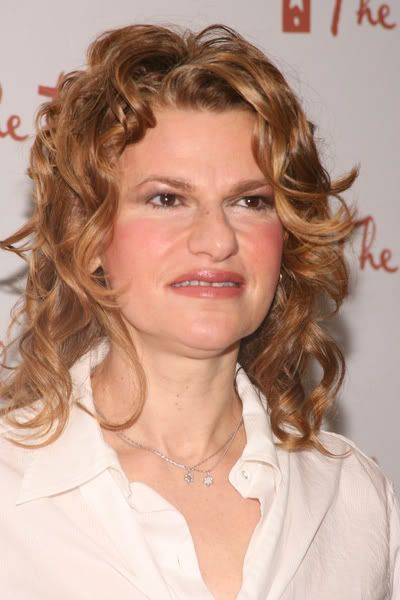 Controversial comedian/actress Sandra Bernhard has been uninvited to a benefit show for a Boston area women's shelter after her comments on Vice Presidential candidate Sarah Palin. Bernhard, who has never shied away from questionable language or comic material, was riffing on Palin's conservative views on abortion and took things way too far.
Sandra Bernhard's recent cracks about Gov. Sarah Palin are no laughing matter, according to a Boston women's shelter.

Officials at Rosie's Place cut the comedian as a headliner from an annual benefit after she joked that Palin would be "gang-raped by my big black brothers" if she ever visited New York City.

Bernhard made the joke last month at a one-woman show in Washington shortly before the Republican vice presidential hopeful hit NYC to campaign. (She also criticized Palin for opposing abortion rights.)

Rosie's Place public relations director Leemarie Mosca said many women at the shelter have been victims of violence, and "we don't think violence against women is a laughing matter."

Added Mosca, "Right now, our main focus is our event and making sure the event is a success," Mosca told the AP. "And for us, that means not including Sandra Bernhard at this time."

On her Web site, Bernhard said the gang-rape joke was part of a larger piece from her show about "racism, freedom, women's rights, and the extreme views of Gov. Sarah Palin – a woman who doesn't believe that other women should have the right to choose."

Said the comedian: "I certainly wish Gov. Palin no harm – I'd just like her to explain to me how she can hold such outrageous views … and then go back to Alaska."
Bernhard has always been one of those extreme-style comedians and personally, I've never found her all that funny. It seems like her act has always been based on her ability to shock the audience, and that's about it. No wonder she and Madonna were best buddies. While I'm not a fan of Palin's conservative social views, I think Bernhard's comment was out of line and not remotely funny – which is an even worse charge to a so-called comedian. Joking about gang rape probably isn't such a smart move at a benefit for a women's shelter, so it makes sense that the Boston organization wouldn't want her there.
Sandra Bernhard is shown at the 2008 Trevor Project New York Gala on 6/30/08. Credit: Sylvain Gaboury / PR Photos