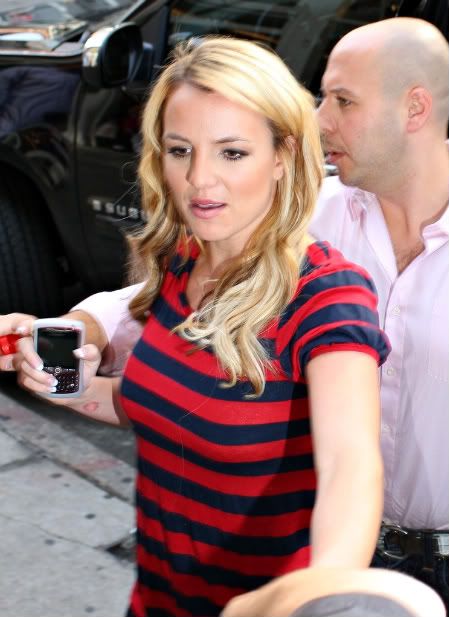 Britney Spears has taken New York by storm over the last few days. Earlier this week Britney made a comment on radio station Z100 about wishing she still had an apartment in the city and missing the energy. That's left a lot of people wondering: might Britney consider moving back?
Britney Spears made an unexpected appearance at New York City-based radio station Z-100 this week. Her arrival at the station was entirely random: one rep for the station confirms that Z-100 received a call from the Spears camp saying she was just two blocks away and wanted to come in.

"Of course we were happy to have her," says the rep, who also confirmed that her entourage was limited to one person — her on-again, off-again manager Larry Rudolph. During the course of the radio interview, Spears said that she wished she still had her NYC apartment. "Man, I wish I still had my apartment here still. But I love (New York City). The energy is crazy," said Spears.

A source close to Spears says, "Britney always toys with the idea of going back (to New York). Obviously there's no chance that's happening unless Kevin (Federline, father of her sons) moves, too."

Spears' arrival at Z-100 was without much of the fanfare that comes with something as simple as a Starbucks run for her when she's in L.A., but that doesn't mean her appearance was paparazzi-free. One paparazzo hit a lamppost near the radio station while trying to nab a shot of Spears. No one was injured.
[From MSNBC's The Scoop]
Britney's made a pretty good impression while she's been here. She went to see "In the Heights" on Broadway, and was ushered in without much fanfare right before the curtain rose – then taken out just as swiftly the moment the show ended. She posed for photos with the cast and chatted them up, and everyone had positive things to say about her. She also donated $10,000 to a Bronx school's music program.
It definitely seems like Britney's trying to ingratiate herself to New York City. I think the paparazzi would follow her around just as much here as an L.A. There's definitely fewer of them, but there's also fewer celebs, and Brit would certainly be one of the biggest. So hopefully she wouldn't consider a move in an attempt to find a slightly less media-filled life. Still, there's a pretty different feel from L.A., so maybe a change would do her good.
Here's Britney in Manhattan on Tuesday. Images thanks to Fame.