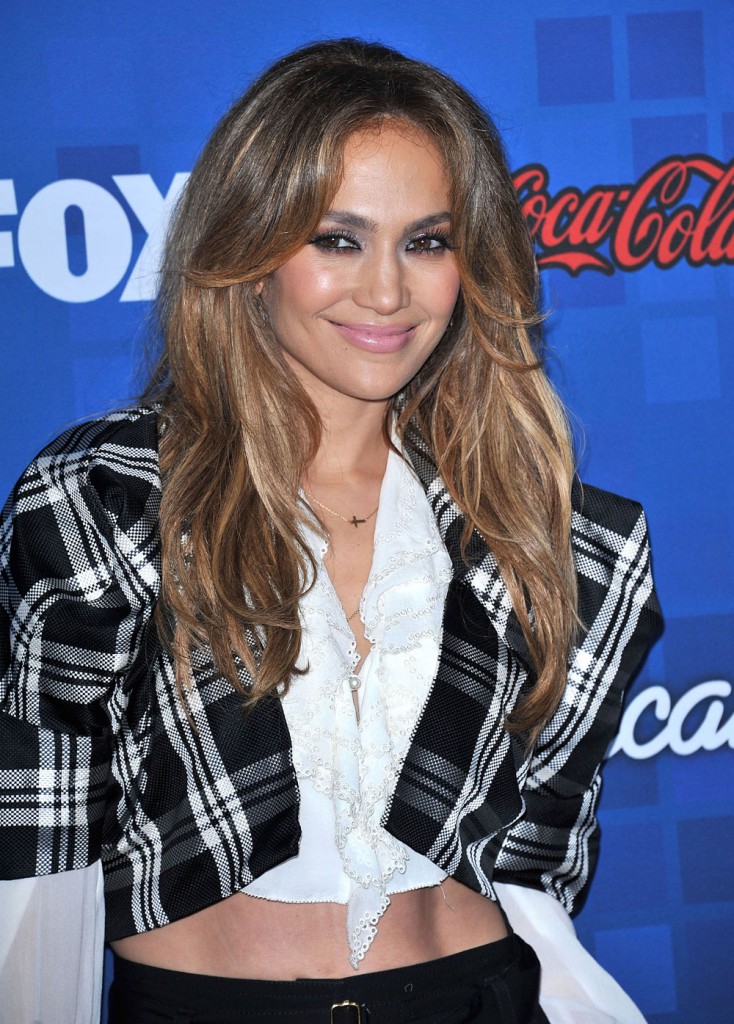 There's a big story on the front page of the Lifestyle section of USA Today Weekendall about how Jennifer Lopez is having a career resurgence now that she's on Idol, has a top digital single somehow, and is endorsing Gillette and L'Oreal products. She has a new album coming out in April and she's promoting that too. Whenever we hear from Lopez she seems to be working hard to shed those diva stories, and this profile is no different. Some choice quotes include:
"Her down-to-earth appeal [on Idol] has pretty well erased the spoiled diva image that had followed her for so many years. And that's something no amount of money can buy," – pop music critic George Varga…

"I was just saying last night to Marc, 'I am so ready to just bite into some role so hard.' And he said, 'I know, I can feel your creative juice going crazy.' "

As with the public, Hollywood is seeing a different side of Lopez, too, [her manager] Benny Medina says. "There's a quality of filmmakers and other creative people in the industry that are being drawn to work with her. One of the greatest byproducts of this particular time is this new introduction of Jennifer Lopez to a community that's always known her but had misconceptions about her."
[From USA Today]
Only how much has Lopez changed really? She may get visibly moved by contestants on Idol, and I've been watching a little this season and I'll admit that she's doing a great job at changing her image. Those diva stories just won't die, though. The National Enquirer reports this week that she was so demanding while staying at the Mirage in Vegas during Idol auditions that "she was one of the most difficult celebrities the staff had ever encountered."
"Within five minutes of her arrival, her assistant had demanded two cribs for her 3-year-old twins, Max and Emme. A runner from the show was quickly sent out to buy cribs and assemble them, and that was explained to Jennifer. But within minutes, she called down to reception wanting to know where they were," said the insider.

In the next hour, the impatient 41 year-old singer called 20 times demanding the cribs.

"She was boiling with rage that they weren't ready – but it was the responsibility of 'Idol' producers to provide her cribs, not the hotel. She was every bit the prima donna."

After the cribs arrived, J.Lo turned her attention to her wardrobe.

"She ordered 12 racks for her wardrobe changes, 20 mirrors and a ton of spotlights for her makeup team," said the insider.

"There were around 50 people in her villa dealing with her makeup, hair and wardrobe – but the funny part is, she wore only two outfits during the entire two days of filming!"
[From The National Enquirer, print edition, March 28, 2011]
If Lopez's twins were getting tired and fussy and she can't get them to go to sleep in a big bed, I guess I understand her freaking out about the cribs. It must be frustrating to have two cranky toddlers at once. The wardrobe stuff is out of hand, though. This could possibly all be Idol's fault for not having all the equipment necessary to satisfy La Lopez. I get the feeling she decides on the spur of the moment what she wants though, and expects everyone else to jump.
Here's a link to a new photo of Lopez with her twins on the set of Idol.
Jennifer Lopez is shown on 3/2/11 (White outfit, credit: Fame) and 3/3/11 (Ridiculous checkered outfit, Credit: WENN.com