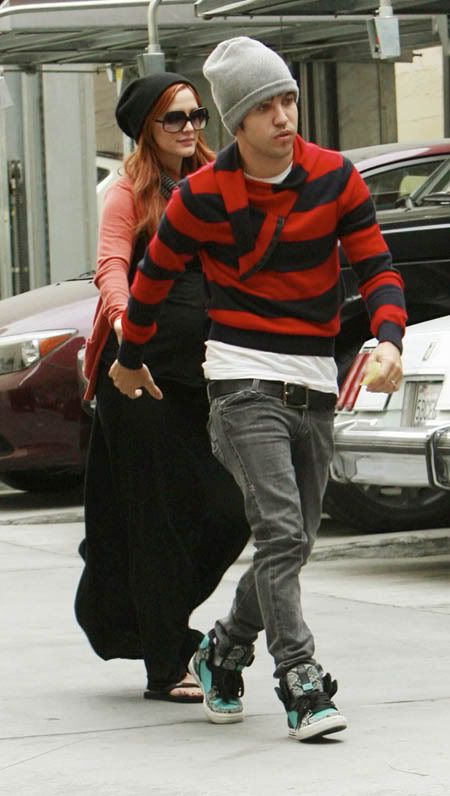 Ashlee Simpson and Pete Wentz out on 10/4/08. Credit: WENN
Emo couple Ashlee Simpson and her new husband, musician Pete Wentz, had a "white trash" themed 24th birthday party for Ashlee. The tasteless soiree was held at Ashlee's parents' home on Friday and featured a feast of corn dogs, macaroni and cheese, and cheap beer that some guests drank out of paper bags. Host Pete wore a fake mullet and a tank top while pregnant Ashlee, who is due to have her first child at the end of next month, sported a fake tattoo on her large belly.
Both Life & Style and People have the details, which kind of supplement each other so I'll include some highlights from each:
Ashlee Simpson and Pete Wentz held one last party on October 3 in LA (to celebrate Ashlee's 24th bday) before heading off into the sunset as young parents. Their theme? "White Trash." "They had people come over in costume and dress up in white trash," a source tells Life & Style. "Wife-beater tank tops, jeans, trucker hats, mullets, – the works. And a lot of beer. Some were drinking beer out of paper bags. It was really hysterical." The beer of choice in the paper bags? "Pabst Blue Ribbon – PBR." Ashlee wasn't drinking it of course!
[From Life and Style received via e-mail]
People has the details of the hosts' outfits, which paint an even more questionable picture:
"It had a white-trash theme," says a guest who attended the bash at Simpson's parents' home in Encino. "Ashlee wore Daisy Dukes and platform flip-flops with a bathing suit and a fake tattoo around her belly."

The singer celebrated with friends and family including husband Pete Wentz, dad Joe and sister Jessica.

"Joe wore a cut-off muscle T-shirt and a mullet wig. It was funny," says a guest. "Jessica was wearing a crazy leopard-print dress that showed off a lot of cleavage."

The menu included corn dogs, macaroni and cheese, chicken fingers and French fries.

With her first child due next month, an exhausted Simpson-Wentz headed home early, missing party guests Christina Aguilera, Nicole Richie and Joel Madden, who dropped by after hitting Gwen Stefani's birthday party earlier that night.
[From People]
Life and Style adds that the perky fringe-banged couple is considering a move to NY after the baby comes to "minimize the paparazzi experience and celebrity exposure." That's doubtful considering how much they both court the press. I'm only surprised that we haven't seen the photos of this party yet considering that it was a Simpson affair. This baby is going to hit the newsstands in some kind of exclusive spread three to four weeks after birth.
Many people find "white trash" to be a derogatory and dismissive term that unfairly labels poor people, particularly those that live in the country or the south. Our friend Michelle over at "White Trash Mom" sees it as term that people can reclaim. In her view, it's not a negative to be called "White Trash" and it just means you're normal and not perfect. She thinks most of us have a little white trash inside.
What do you think? Is it harmless fun or kind of mean to have a "White Trash" themed party?