Lauren Bacall does not like Tom Cruise. She's never worked directly with Cruise, but she worked with his ex-wife, Nicole Kidman, in Dogville and Birth and feels she has some insight into Tom's personality and personal life because of it. And when Lauren Bacall has something to say, she says it.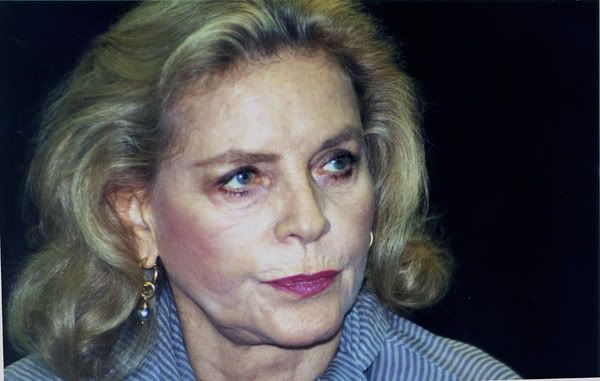 Screen legend Bacall worked with Cruise's ex-wife Nicole Kidman on 2003 film 'Dogville', soon after her divorce from the 'Mission: Impossible' actor, and says she appeared "unhappy" during filming, before launching an astonishing and scathing attack on Cruise.

Bacall told Elle magazine: "Tom had taken off for Penelope Cruz or some goddamn thing – one of his more ridiculous moves. Tom Cruise is a maniac. I can't understand the way he conducts his life."
This is not the first time 'The Big Sleep' actress has hit out at Cruise.

In 2005, Bacall said: "When you talk about a great actor, you're not talking about Tom Cruise. His whole behaviour is so shocking. It's inappropriate and vulgar and absolutely unacceptable to use your private life to sell anything commercially, but, I think, it's kind of a sickness."
[From FemaleFirst]
Rather ironic, in a way, from Bacall, who has been in some highly public and controversial relationships in her private life that were gossip fodder and pushed her own career to previously unknown heights. Her affair and subsequent marriage to Humphrey Bogart has become so commercial it's been used in song lyrics. Her autobiography chronicles the relationship she had with Frank Sinatra and how disclosing personal information to renowned gossip columnist at the time, Louella Parsons, caused Sinatra to be so annoyed with Bacall that he recinded his marriage proposal and cut off all contact with her. And she's been called shocking a time or two in her life.
But Lauren Bacall has never been one to hold back, and at 84 she's reached that magical age. That crazy-old-lady age where she feels she's doing the world a great service by telling her crabby opinions on everyone and everything and we should all be thankful for it. You gotta love her for it, and Lord knows I can't wait to reach that age. Oh, the liberating glory!
Picture note by Celebitchy: Lauren Bacall is shown in the header at a fan screening of "Indiana Jones and the Kingdom of the Crystal Skull" in NY on 5/21/08. She is shown below at an adorable photo shoot at the Boca Raton Resort & Club in Boca Raton, FL on 8/1/07. Credit: Jay Kravetz / PR Photos