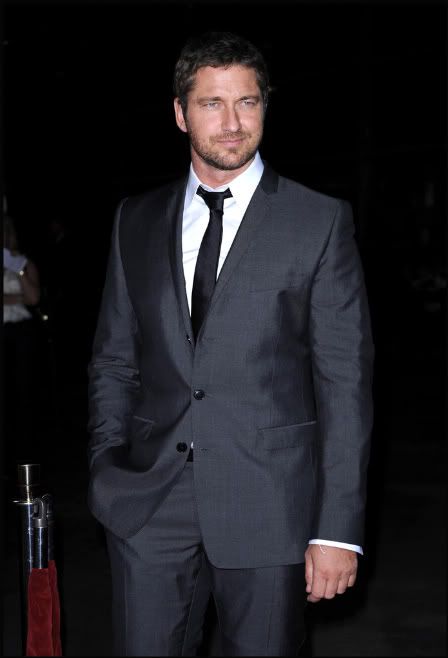 Scottish beefcake Gerard Butler, 38, is under investigation by the LAPD for allegedly pulling a tailing paparazzo out of his car and repeatedly punching him in the face. TMZ has the story and a photo of the guy Bulter is said to have beaten up, who pulls down his lip to show multiple cuts. The story sounded at first like a typical case of a celebrity fed up with the paparazzi in general and taking it out on the latest stalking photographer who happened to be around. In a follow up TMZ says they have several witnesses who say the photographer was driving incredibly recklessly and following Butler for hours before he finally blew up.
We've learned Gerard Butler is under criminal investigation for allegedly assaulting a photog.

It allegedly went down early Tuesday in L.A. Gerard was leaving Crown Bar at 2:00 AM and got into his limo. The photog claims he was following Gerard's limo in a car, when the limo suddenly stopped. Gerard supposedly got out of the limo, approached the photog and asked why he was tailing him.

To that, the photog says he responded, "Hey, that's my job." Gerard allegedly then reached in the car, grabbed the photog's throat and and punched him three or four times. Butler allegedly then kicked the car and again punched the photog three or four times — close-fisted — for good measure.

The photog went to the hospital for stitches and then filed a police report. The LAPD confirms they're looking into the case and plan on interviewing Gerard.

No immediate comment from Gerard's people.
[From TMZ]
And here's the maybe-real story where sources claim that maybe the guy didn't have it coming exactly, but he wasn't quite as innocent as he says:
Sources tell us witnesses have now come forward with a very different account. They are saying the papper was tailing Gerard for hours. And, they say, the photog was driving "recklessly" as he "chased" Butler's limo, almost hitting several pedestrians.

After Gerard allegedly got out of the limo and struck the photog in the face, we're told the photog continued following Butler for more than an hour before going to the hospital.

And, we're told, the photog spoke with a civil lawyer before contacting cops.
[From TMZ]
Ca-ching! Even if the guy wasn't looking to get abused he certainly seems open to getting a big fat settlement from Butler. I hope all he gets is a fat lip and his case dismissed. There need to be more laws in California and in the US in general to protect celebrities from the paparazzi. It's getting out of hand, and while I don't condone Butler's behavior, no one should be driving recklessly to tail a star, either. We avoided a disaster with Britney, but the problem didn't go away – she just got sane despite the circling vultures.
Gerard Butler is shown at the RockNRolla premiere in LA on 10/6/08. Credit: WENN