Cameron Diaz can't keep a relationship because she's a "spoiled brat"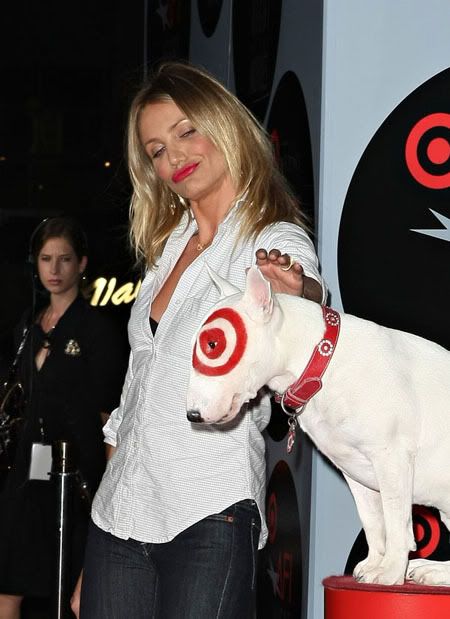 Cameron Diaz has had a number of high-profile boyfriends but none of them have been able to go the distance.  Diaz doesn't blame them for this, she blames herself, saying unapologetically that she's a spoiled brat who is used to getting her own way.
The Charlie's Angels star has dated a string of Hollywood stars including Matt Dillon, Jared Leto and singer Justin Timberlake.

And the star – who is now dating Jennifer Aniston's ex Paul Sculfor – claims her selfishness often hinders long-term romances.

She says, "It's really hard for me to commit. It's probably a lack of discipline on my part.

"Honestly, I'm just a spoiled brat who's used to getting my own way all the time! I'm sure that's what it is. I'm sure I'll suffer for it later, but I'm happy with it right now."
[From Yahoo! News UK]
Cameron's not telling anything the rest of us didn't already assume about her and just about every other Hollywood player, but she's owning it, which is more than you're going to find most others doing.  Alot of us could probably describe ourselves as spoiled and bratty in relationships now and then.  If it doesn't bother her, more power to her, I guess.  She's successful and happy and isn't defined by her ability to partner long-term and isn't bothered by it, either. 
The thing is, it sort of feels to me like she's justifying continuing the behavior.  She doesn't see it as a character flaw that she enters relationships unwilling to compromise, that way she doesn't have to correct it.  Cameron is 36-years old, it's time to learn the difference between knowing what she wants and being selfish.  Diaz was attempting to make a self-deprecating joke, but it comes off alot more like she thinks that when you're Cameron Diaz, you can be a spoiled brat and it's cute.
Written by Ceilidh

Posted in Cameron Diaz, Photos, Relationships

- Zach Galifianakis is awesome [Buzzfeed]
- Prince at the Billboard Music Awards [D-Listed]
- Bieber's Billboard look [Go Fug Yourself]
- Married to Medicine recap [Reality Tea]
- Celebrity first marriages [Pajiba]
- The last Mad Men baffled a lot of people [Lainey]
- Karolina Kurkova's crazy hot dress [Moe Jackson]
- Jennifer Garner on set [Popsugar]
- Kitten vs. Lizard [CDAN]
- Doetzen Kroes' great butt [Celebslam]
- Shameless star Jeremy Allen White [OMG Blog]
- RIP Ray Manzarek [Bossip]
20 Responses to "Cameron Diaz can't keep a relationship because she's a "spoiled brat""