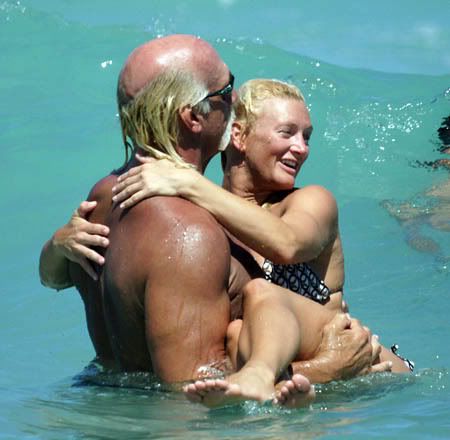 Hulk Hogan seems to be a little confused about what generally happens after a kid goes to jail. More often than not, the parents divorce, the remaining children become violent or sexually promiscuous, and general misery befalls all who ever had the misfortune of coming into contact with the delinquent. There are a few exceptions here and there, but for the most part goodness and happiness doesn't follow them around for the rest of their days. I think that was a misquoted and totally maimed biblical passage, but I'm not sure. What I am sure of is that Nick Hogan has wrecked his family's lives – or whatever wasn't totally ruined before.
But dear delusional Hulk seems to have forgotten the way this generally goes and appears to hope his family will have some kind of quasi-reconciliation. Hey, you bring the girlfriend that looks exactly like your daughter, your wife can bring her boyfriend that's the same age as her son in juvie, and I'm sure we'll all have a grand old time with a cookout and some type of baked goods.
Hulk Hogan is eager for his son, Nick, to be released from jail on October 21 and hopes that his family — including daughter Brooke and estranged wife Linda — will unite in support. "I don't think there's any reason why we shouldn't all be friends," Hulk, whose marriage to Linda fell apart in 2007, tells In Touch. "But other people feel differently."

Nick, 18, was locked up on May 9 for his involvement in a car accident that permanently injured his friend John Graziano. He's getting out three months early, thanks to credits for good behavior. "

Nick is [holding himself] accountable … He has this whole new vibe about helping people," his dad says. "He should be free to follow his heart." As he awaits Nick's homecoming, Hulk is keeping busy with his new show, Hulk Hogan's Celebrity Championship Wrestling, which premieres on October 18 on CMT. "I know Nick wants something good to eat," Hulk tells In Touch. "And he said he wants a really, really long shower."
[From In Touch]
Hulk is totally right. Nick should be free to follow his heart, eat a good meal, and skip through a field of bunny rabbits and daisies barefoot. All without the fear of being tackled by a group of large, angry men. And by "should" I mean "you don't deserve a moment of good or happiness for the rest of your life you little bastard." Or something close to that, but which fits into the sentence better.
In related news that puts to rest the whole "Is there a God" question, Brooke Hogan confirmed that she will not pose for Playboy after all. Hulk was pretty bummed. Then he made out with his girlfriend in front of his wife and everything was a-okay again.
Hulk Hogan is shown with his girlfriend, Jennifer McDaniel, in Miami on 4/2/08. Credit: Kadena Pix/Bauergriffinonline.com. And here are those photos of Hulk rubbing lotion on his daughter's butt that you've seen ten times before, from 4/28/08. Credit: Fame Pictures.