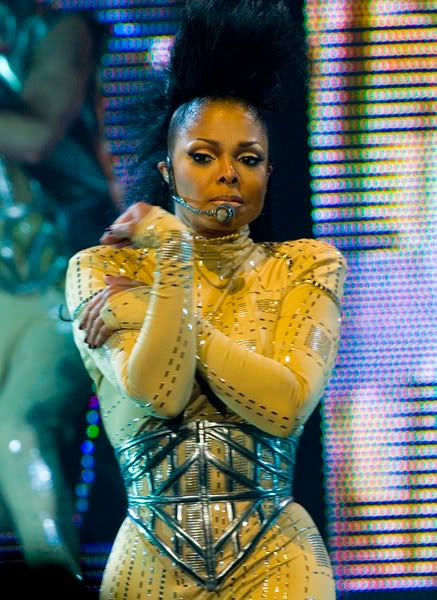 It's been over a week since Janet Jackson suddenly canceled several of her concerts, blaming the rapid onset of a still-unexplained mystery illness. Since then she's supposedly shown up for several of her sound checks but had to cancel every time because she still wasn't better. Everyone's got the right to keep their medical issues private, but when thousands of people are repeatedly put out like that, it's natural to wonder what's going on. As yet, Jackson hasn't bothered to give any explanation more specific than the celebrity version of "the dog ate my homework."
However ABC's Luchina Fisher has a pretty good theory exactly what malady is plaguing Jackson. "Mid-life career slump" as she puts it.
Is it vertigo, as her brother Randy reportedly said last week, or is Janet suffering from an ailment more common to aging '90s pop stars: a mid-life career slump? At 42, Jackson is certainly not the only middle-age female pop star rocking the concert circuit. Just look at Madonna, 50, whose "Sticky and Sweet" tour is virtually sold out and getting rave reviews. Or Tina Turner, who is about to embark on another tour at nearly age 69.

Why does Jackson, seemingly the most stable of the Jackson clan, appear to be losing her footing? "Her music hasn't really evolved as she has aged as a person, said Jonathan Cohen, a senior editor at Billboard magazine. "She's still doing the sex kitten thing, which, at 42, really isn't believable."

[Jackson family friend known only as Phoenix says] "They are pulling out due to bad ticket sales. Janet might have been one of the greatest pop icons in her time. But Janet Jackson, at 42 years old, does not have the same appeal as in '89 with 'Rhythm Nation.' Other artists took that throne — Ashanti and Beyonce. This is what you call a publicity stunt."

Janet's latest album "Discipline" – which was supposed to be her big comeback – hasn't even sold 500,000 copies.
[From ABC News]
I think Jonathan Cohen hit the nail on the head when he said, "Her music hasn't really evolved as she has aged as a person." That is absolutely correct. Even the look of the clothes Jackson is wearing screams 1989. She looks like one of the backup singers from Jem and the Holograms. A stale look combined with a stale sound is a bad combination. It's such a cliché and I get so tired of hearing it, but it's correct: Madonna stays relevant because she is constantly reinventing herself. Janet hasn't done anything new since "janet." which was in 1993. Everything she did afterward sounded like she was pulling from the discards of various old CDs.
I'm guessing Janet is suffering some anxiety attacks or something of that nature. She might be canceling as a power play but that seems so petty and unprofessional that I'm sure it would do more harm than good. She needs to come out with a fresh look and a killer, unusual show – to remind everyone exactly why they should give her a shot again.
Note by Celebitchy: While I understand the skepticism, I think people should give Jackson the benefit of the doubt. She may indeed be having medical problems and, as often happens, doctors might not know what's wrong yet and that's why she hasn't issued a statement. It's unfair to speculate that she's having some sort of psychological problem. Vertigo can happen for a lot of reasons and it's very disabling. It's also frustrating to go to doctors when you're sick like that and it usually takes a while to get a diagnosis. I feel for her and hope she pulls through this. Now is not the time to criticize her career and I doubt she would pull out of so many concerts without a legitimate reason.
Janet Jackson is shown performing in Rosemont, IL on 9/25/08. Credit: Adam Bielawski / PR Photos