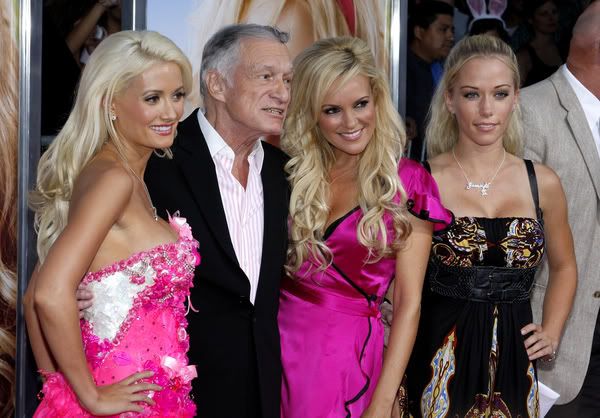 Hugh Hefner is a fighter. Scratch that, he's a survivor. Though he admits to being absolutely distraught about officially losing longtime main girlfriend Holly Madison (and by "absolutely distraught" I mean the Hef version, which means "kinda bummed"), Hefner is determined to rally. He really has this amazing, wisdom-filled spirit to him that just overpowers everything and everyone around him.
Hugh Hefner is down a girlfriend. Hefner and Holly Madison, one of E!'s "The Girls Next Door," are no longer dating. Hefner said he's been "down in the dumps" about the split. "If Holly says it's over, I guess it's over," Hefner said in a telephone interview Wednesday. "She's still here in the house. Until a few days ago, we were still sharing the same bed."

Hefner was surprised to hear Madison discussing their breakup, but acknowledged he knew a split was imminent after he told Madison that they would never wed or have children. Hefner said Madison learned the pair would never have children or get married six months ago, adding: "The fact that she was depressed after that, I didn't know at all. That was a revelation in the last days and weeks. Quite frankly, we thought when the time came, we would make a combined statement and we expected that combined statement would be somewhere in the weeks and months ahead."

"It's now apparent there will be some new faces in my personal life and on the show," he said. "There's been moments that I've been down in the dumps about all this, and (personal assistant) Mary (O'Connor) told me to cheer up and pointed out that there are girls lined up outside the front gate. At my age, that's hard to believe, but it seems to be true."

The Playboy mogul expects to maintain a business relationship and friendship with Madison, who — along with Marquardt — originally was one of seven girlfriends living with Hefner in 2001 after his separation from Kimberley Conrad. Wilkinson was later asked to move into the Playboy Mansion in 2004. Hefner said he may again seek out seven — or more — girlfriends. "It's a big house," he said. "And I'm not going to live alone. I'm definitely not going to live alone."
[From Yahoo! News]
That's right Hef, stay strong! I'm sending a bouquet from FTD as we speak. Ironically its theme is "STDs" so it'll be doubly useful. I love the notion that Hugh Hefner is surprised that he's unaware about the deep, emotional inner sadness one of his three girlfriends was going through. I don't care how long he's with any of them, are we really supposed to believe he sees them as much more than a pair of boobs and a face? He does seem to genuinely care about them, but in a creepily paternal sense. So I'm really not shocked he didn't notice that Holly wept all day and couldn't get out of bed for a few months.
In slightly less deep news, Hefner told the Associated press that twin Playmates Karissa and Kristina Shannon (19 years old) are also living in the mansion, but aren't his girlfriends. However there was so vague hinting that they could be in the future. Sisters sleeping with the same 83-year-old… now that would certainly top the creepy paternal thing.
Hugh Hefner, Holly Madison, Bridget Marquardt and Kendra Wilkinson are shown at The House Bunny premiere on 8/20/08. Credit: Albert L. Ortega / PR Photos