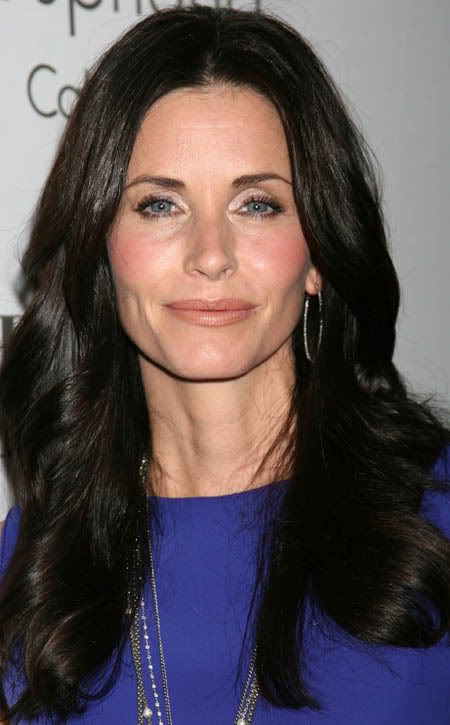 It seems like a lot of female celebs are at this weird place where they can't deny they're had plastic surgery – thanks to tabloids and Dr. 90210 we're all so aware of the telltale signs – but they've still got to maintain that facade of abhorrence. So the only solution is "I tried it and hated it." Jessica Simpson finally 'fessed up to Restylane lip injections two years ago – aka the few months she spent with permanent trout pout. She claimed to have hated the look. Which is good, since the rest of us did too.
Now Courteney Cox admits she's had Botox done – but of course claims to hate it, and gives the tried and true "I'm an actress, I have to move my face" line of thought.
Courteney Cox has a confession: She's had Botox, and she didn't like it!

"Botox? I think it's fantastic and also horrible," she tells November's Marie Claire. "I mean, they've come up with this stuff that can make you not look angry. But you have to use it sparingly.

"I went to this doctor once," Cox, 44, continues, "and he was like, 'Oh, let me do it just here and here and here.' And I was miserable. She explains, "I mean, I'm an actor, I've got to be able to move my face. When people start messing with their foreheads and can't lift their eyebrows, that's weird. It's not that I haven't tried Botox – but I hated it."

Luckily, Cox says, "I'm under pressure to not do anything." Plastic surgery, she adds, isn't "really important" to her husband of nine years, David Arquette. "He loves the aging process. He thinks it's beautiful," she says in the magazine.

"It's weird, because I'm so in love with David right now," Cox says. "I'm starting to really appreciate how 'there' he is for me. But in any relationship, there are times that you're disconnected. You can see how relationships end if you don't work through it."
[From Us Weekly]
What a great way to answer questions so you sound like you're really honest and also not vain. This sounds like the cosmetic surgery version of the line both my parents always told me (and I absolutely believed) about drinking alcohol in college: yes they both had tried it, both thought it tasted disgusting, and they dumped it out into a potted plant when no one was looking and just pretended to drink after that. Heaven forbid any of us look too closely at some random episodes of Friends or (gulp) Dirt. Oh and Jennifer Aniston never really had a nose job. That deviated septum thing was absolutely accurate.
Courteney Cox is shown at ELLE Magazine's 15th Annual Women in Hollywood Tribute on 10/6/08. Credit: Bob Charlotte / PR Photos. Header photo credit: Nikki Nelson / WENN