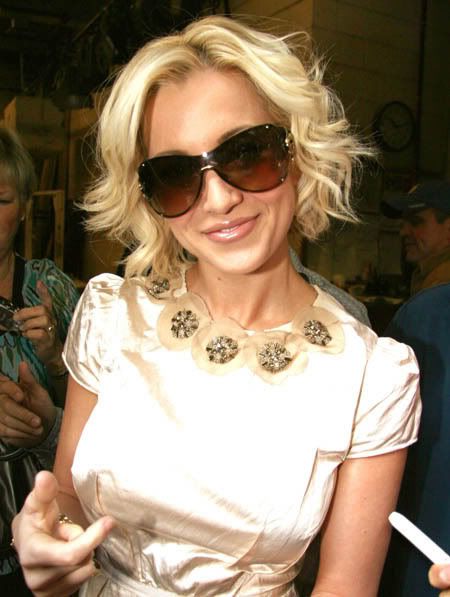 American Idol contestant and country star Kellie Pickler is known for her bubbly, upbeat attitude, but she recently revealed that she's been dealing with depression brought on by family and relationship troubles over the last year. It was pretty clear during her live performance on "Live with Regis and Kelly" earlier this year, during which she broke down in tears while singing, that Kellie was going through something. Kellie sought professional help and was prescribed some anti-depressants, but she says the drugs had side effects that made her "crazy." In the end, she reached out to friends about her situation for support and met a new love interest along the way.
Last year, Kellie Pickler battled depression and suffered severe reactions to anti-depressant pills after struggling with family problems and an emotional breakup from her boyfriend, hockey player Jordin Tootoo, the country star reveals in the new issue of PEOPLE, on sale Friday.

"Everything in my professional life seemed great," says the former American Idol contestant, 22. "But in my personal life, I was just crumbling."

Anti-depressants made her "crazy," she says, and the side effects forced her to quit the pills.

At the same time, she watched her father – a convicted felon who had been released from prison soon after her Idol stint – spiral downward again and return to jail, while her mother, who abandoned her at age 2, unexpectedly reemerged.

"I was an emotional wreck," she says.

Her friendships with singers Taylor Swift and Carrie Underwood, along with a new love – Nashville songwriter Kyle Jacobs – and writing songs for her new album (her self-titled sophomore effort was released Sept. 30) helped her find balance again.

"He makes me feel so good about being me," she says of Jacobs.
It sounds like Kellie has been having a rough time of it, and she deserves credit for seeking help for her problem. Unfortunately, it sounds like the drugs weren't the answer for her. I was on anti-depressants briefly a few years ago while going through a divorce, and they really helped me. But I know other people who have reacted badly to them- feeling more depressed and even suicidal. I do think that talking to your trusted friends about your depression does help – but throwing yourself into a new relationship may not be the best idea. Either way, it does seem like Kellie is feeling better about herself and that's a good thing.
Kelly Pickler is shown posing with a fan outside 'Live with Regis and Kelly' on 10/1/08. Credit: Ray Filmano / WENN