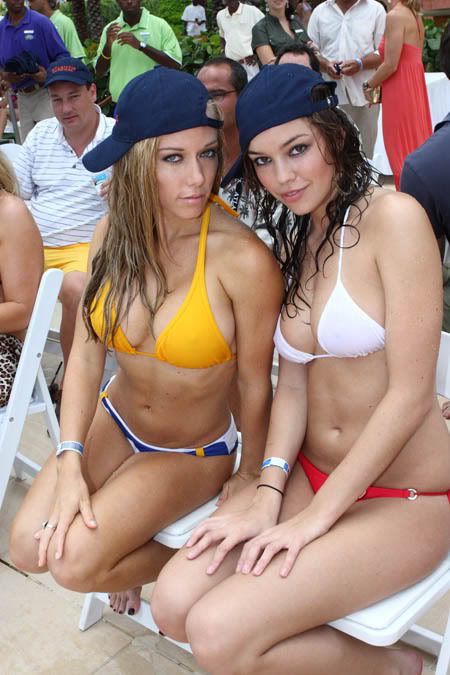 Now that it's well known that at least two out of Hugh Hefner's three girlfriends have left (including Holly, the only one who was ever thought to be serious about him) they're free to discuss their other relationships. Sporty member Kendra Wilkinson recently told Chelsea Handler that she enjoys having webcam sex with her boyfriend, football player Hank Bassett, because they live far from each other. She also admitted that she's not really around the mansion much and doesn't pay much attention to all the drama.
As for who is keeping Hef company now that most of his women have gone their separate ways, Kendra says that "There are some random ass hoes walking around" and that she locks her door so they aren't "stealing stuff out of my room."
Kendra confessed that she and Hef are no longer together, although they'll always be best friends. Instead, she talked about her new man, Hank Baskett, who plays for the Philadelphia Eagles.

She dished that they keep in touch with Skype (aka live video chat) and have cybersex sessions on it. "It's way better than phone sex," she swears. "Try it!"

So since she's busy Skyping Hank, who's keeping Hef company?

"There are some random ass hoes walking around," Kendra said, adding that she locks her bedroom door so that no one steals her stuff.

While it sounds like she's not crazy about the new brood of babes living in the Mansion, she is concerned with one nearby resident's well-being.

"I want Hef to be happy," she said. "That's all I care about."
[From E! Online]
Kendra also said that her endorsement of The Olive Garden was blown way out of proportion. She told Handler that all she did was ask designer Roberto Cavalli if he had ever been to the Olive Garden and that the clip was aired on the show and "it turned into this whole big thing," including a spot on the front page of the Wall St. Journal.
That's not quite what happened though, because Kendra called the Olive Garden her favorite restaurant in many interviews and was even looking for women who worked there to pose in a Playboy pictorial.
Chelsea reminded Kendra that the Olive Garden said they don't want her representing them, and she answered "I don't care. I just said it, I don't care. I came back the next week and I'm like 'I like Applebees too, come on!'"
Maybe Kendra can endorse Skype for a while until they're forced to come out and say they're more about getting grandmothers and their grandkids together than getting people off.
As for whether she's getting her own show, Kendra said "I would like it."
Here's the video of Kendra on Chelsea Lately:

And here's Kendra as a judge for the swimsuit segment of the 'Sun Fun & 21′ event at Cain at the Cove in Nassau in the Bahamas on 4/10/08. Credit: WENN